FREE RESOURCES: Classroom Activities [ Page 7 ]
Student discussions, exercises, games before and after the play
< Prev | 1 | 2 | 3 | 4 | 5 | 6 | 7 | 8 | 9 | Next >
This page (Page #7) has creative activities for use in the classroom. Kids love to learn more about the play's origin and subject. Check out these articles and activities related to ArtReach's popular titles: Kid Frankenstein, Treasure Island, Pinocchio, Aladdin, Jack and the Beanstalk, Little Mermaid, A Thousand Cranes, Beauty and the Beast, Sleepy Hollow, Emperor's New Clothes. Don't forget, a Teachers Guide will come with your School Play Package and contains tons of creative new ideas for your teaching lessons!

Frankenstein in Popular Culture, Before ArtReach's "Kid Frankenstein"
Classroom Discussion

Mary Shelley's novel Frankenstein, and the famous character of Frankenstein's monster, have influenced popular culture for almost two centuries. The work has inspired numerous films, television programs, video games and derivative works. The character of the monster remains one of the most recognized icons in horror fiction and is one of the most popular Halloween costumes for kids and adults alike.

"Why does the monster remain so famous?"

ArtReach's Kid Frankenstein - A Children's Theatre of Mesilla, Las Cruces, NM

Silent Era - The first film adaptation of the tale was made by Edison Studios in 1910. The brief (16 min.) story has Frankenstein chemically create his creature in a vat. The monster haunts the scientist until Frankenstein's wedding night, when true love causes the creature to vanish. For many years, this film was believed lost. A collector announced in 1980 that he had acquired a print in the 1950s and had been unaware of its rarity.

The Edison version was followed by another adaptation entitled Life Without Soul (1915) about a modern-day Frankenstein who creates a soulless man. In the end, it turns out that a young man has dreamed the events of the film after falling asleep reading Mary Shelley's novel. This film is now considered a lost film.

"Universal Pictures starred Boris Karloff as the monster."

ArtReach's Kid Frankenstein - A Children's Theatreof Mesilla, Las Cruces, NM

There was also at least one European film version, the Italian Il Mostro di Frankenstein (1921). The film is also now considered lost.

Universal Pictures - The first and by far the most iconic sound adaptation, Frankenstein (1931), was produced by Universal Pictures starring Boris Karloff as the monster. It has been preserved in the United States National Film Registry. Its sequel, The Bride of Frankenstein (1935) also starred Karloff. It was followed by Son of Frankenstein (1939), the last one with Karloff. The Ghost of Frankenstein (1942) was considered a B movie. Others were: Frankenstein Meets the Wolf Man (1943); House of Frankenstein (1944); House of Dracula (1945); and the comedy Abbott and Costello Meet Frankenstein (1948).

"There have been hundreds of works created from the Frankenstein story."

ArtReach's Kid Frankenstein - A Children's Theatre of Mesilla, Las Cruces, NM

Though the story had existed for over 100 years, it was the success of the Universal films that established Frankenstein as an iconic part of popular culture - identified more with the Creature than with Dr. Frankenstein. Since then, there have been hundreds of works (films, TV series, cartoons, books, stage plays, toys, costumes, etc.) created from or influenced by the Frankenstein story. For an in-depth account of these numerous works, see Wikipedia's page "Frankenstein in Popular Culture."

"Imagination will often carry us to worlds that never were,
but without it we go nowhere."
Carl Sagan

---

Who Was Robert Louis Stevenson?
Study guide Information for ArtReach's Treasure Island

Robert Louis Stevenson wrote novels, plays, poetry and more, but he's best known for two novels that have since become classics.

Treasure Island: 'Treasure Island' was first written as a serial, published one chapter at a time in the magazine 'Young Folks' from October 1881 to January 1882. During this time, the story was called 'The Sea Cook'. In 1883, 'Treasure Island' was published as a novel.

"Jim Hawkins, who goes on an adventure to find hidden treasure."

William Floyd Thespians, Mastic Beach NY

The story follows a young boy, Jim Hawkins, who goes on an adventure to find hidden treasure after being gifted a map by a pirate. Throughout the story, he comes up against mutiny and treachery, as well as sword fights and excitement as he and his crew learn to navigate the world of piracy.

'Treasure Island' is credited as being one of the first books that could be seen as romanticizing the world of pirates. It also introduces a lot of tropes about pirates that are still used today, such as black-sailed ships and treasure maps marked with a cross. It's also thought to be one of the first books aimed at an adolescent audience that isn't obviously about morality.

"One of the first books that romanticized the world of pirates."

William Floyd Thespians, Mastic Beach NY

The success of 'Treasure Island' has endured over the years since it was first published. Over fifty adaptations have been made of the story, including films, TV shows, theatre productions, and audio dramas. As well as adaptations, there have also been numerous sequels and prequels written by other authors inspired by Stevenson's work.

Strange Case of Dr Jekyll and Mr Hyde: 'Strange Case of Dr Jekyll and Mr Hyde' is a Gothic novella published in 1886. A novella is a term used to describe a story that is shorter than a novel but longer than a short story.

The story centers around a man, Dr Jekyll, who has managed to create a drug that splits his good traits and his evil traits into two separate personalities. Over time, his evil personality, Mr Hyde, gains more control and power, ultimately taking over Dr Jekyll and becoming Mr Hyde permanently.

"The success of 'Treasure Island' has endured over many years."

William Floyd Thespians, Mastic Beach NY

Robert Louis Stevenson Facts:

A lot of Stevenson's original manuscripts have been lost. They were sold off by his descendants around the start of the First World War, which was when his work stopped being as popular.

At the age of 36, Stevenson started to learn the piano and began to write his own musical compositions.

There is a museum dedicated to the life of Robert Louis Stevenson in Samoa.

The idea for 'The Strange Case of Dr Jekyll and Mr Hyde' came to Stevenson in a dream. Stevenson was so inspired by his dream that he wrote 40,000 words of the first draft in three days.

According to a UNESCO index of translated authors, Stevenson is the twenty-fifth most translated author in the world.

After the Stevensons got married, they had their honeymoon next to an abandoned silver mine.

Stevenson's work hasn't always been as popular as it is now. In fact, it wasn't until the 1950s that his work gained worldwide acclaim.

---

The Pinocchio Game: Kids Become Puppets
A Fun Idea for Creative Dramatics

This is a really great way to start a rehearsal on a physical high. It is a warm-up, stretching exercise with dramatic content to keep it focused. It is named after the wooden puppet (if you do it at Christmas, you can call it The Nutcracker Game). The game consists basically of a narrative pantomime of the wooden puppet SLOWLY coming to life. Here are some things you can say to play the game:

Right now you're made completely of wood. Your arms and legs are carved from a single piece of wood. You can't move any part of yourself at all.

Now a magic spell has begun. It begins at the top of your head. The spell moves down slowly until your head down to your eyebrows is flesh and blood. Try and move your eyebrows.

"A magic spell has begun."

Kenwood School, Minneapolis -- 3rd, 4th and 5th Graders.

The spell keeps moving down. Now you can move your eyes! All your life you've been staring straight ahead, and now you can look to the sides. The spell gets to your ears and your nose. See if you can wiggle them. The spell gets to your mouth. You can smile. It feels strange at first, and probably looks pretty strange too, but you grow more comfortable with it. Try some other facial expressions as well.

Slowly you discover that you can turn your head. Careful! You can look up and down carefully as well. Look! You have feet! This is the first time you were ever sure.

The spell reaches your shoulders. But remember, your arms and hands are still attached to your body, since you are carved from a single piece of wood, so you can move ONLY your shoulders. Try some circles. Do you feel a tingle up and down your spine? That's the magic working.

The spell reaches your chest. You can puff it out like a soldier. Your elbows can move now, but still not your hands. As the spell goes lower, see if you can pull your left hand away from your body. Ooofff! You did it.

"You're all real now!"

Upright Theatre Company, Euless TX - YAAN (Young Actors Assoc of Niagara), NY

Bring your hand up to your face and study it. See if you can move the fingers. Wow! You've never seen anything so beautiful! See if you can get your right hand free as well. Does it move too?

The spell has reached your waist. Carefully bend forward, to the side. See if you bend backwards. See if you can make a circle. The spell reaches your hips, but your knees are still locked together and your feet are still attached to your pedestal. The spell gets to your knees. See if they bend!

Reach down and see if you can pull your left foot free. Ooofff! Point the toe. Flex the foot. Make little circles. Now see if you can get your right foot free. You're all real now! See how you can move. Careful at first – these are your first steps! Let's find all the ways our new bodies move!

---

ArtReach's Aladdin: Drama Fun and Activities
Performing Aladdin? Try these in your classroom first.

MAGIC CARPET: Have children draw a place on the floor around their desk. Pretend it is a magic carpet. Tell them to close their eyes and wait until you count: one, two, three! Imagine that you are flying on a magic carpet. What do you see below you? What do you see above you? Where do you want the carpet to take you?
"Where will your magic carpet take you?"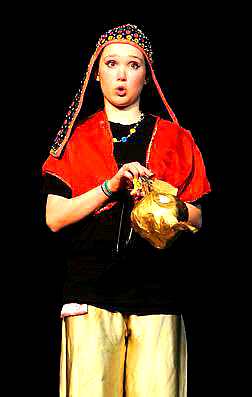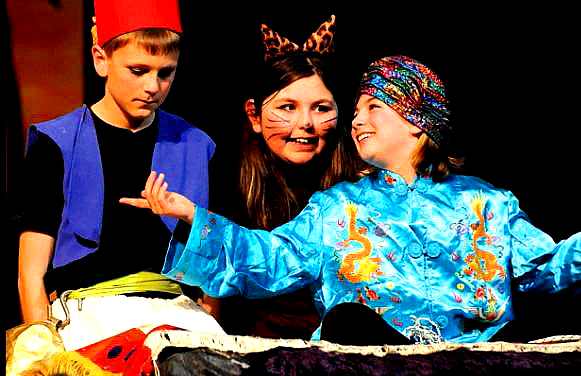 ALADDIN at Vergennes Union Elem School (VT)
LAMPS: Discuss the lamp that the Genie lives in. Is it like any lamp you have seen before? Discuss the difference between it and what you have seen. Discuss the history of oil lamps. Why are lamps such an important part of our lives?

GENIE: Pretend you are a Genie in an oil lamp. How do you like it in there? Do you have furniture? Do you want to get out? How would you dress if you were a Genie? Can you think of other magical creatures like Genies? Are there similar characters in the stories you watch on TV or in the movies?

THREE WISHES: Teacher, pretend you are Genie and you have the power to grant each child three wishes. Have them write down their three wishes. What do you want more than anything in the world? Sometimes you can wish for a thing like a new car. And sometimes you can wish for something that is not tangible, the way the Genie wishes for his freedom. What kind of things like that do you wish for? Happiness? Love? Now think of others such as friends and family. What do you wish for them?

THE CAVE OF WONDERS: Have some of the children create the cave doors. Others may ask to be let in the cave by calling out: Open Sesame! The cave may refuse to admit them but they must explain their reasons. If the children are admitted what do they find there? Have them pretend they are in a cave that is dark and echoic. What kind of treasure might they find there? If you find a statue made of gold have someone show how that statue would look.
Finding Treasure: "Open Sesame!"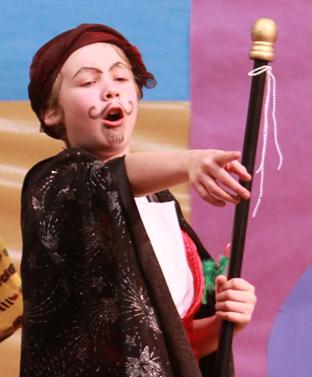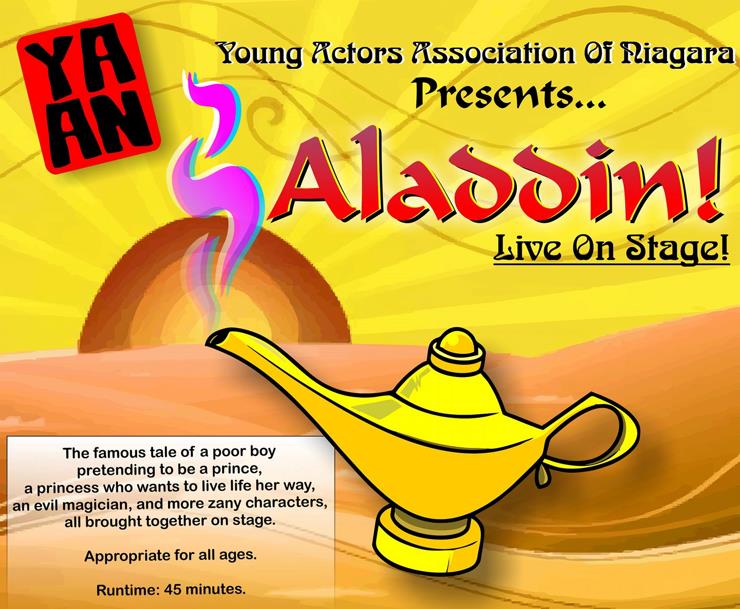 Monkton Central School, Vermont - YAAN (Young Actors Assoc of Niagara), NY
IMAGINARY FRIENDS: Have the children think about what kind of side kick they would like to have with them all the time, the way Aladdin has his cat Persia. What kind of animal would you have? If they could talk what would be their language? Would they help you in times of trouble? If they got in trouble what would you do for them?

PALACES: Have the children compare their house to a palace? What would a palace have that you don't have at home? What would the palace be made of? Sugar, chocolate, ice, glass? What would your room in the palace look like? Would you let other people live there too?

MAGIC STAFF: Omar the Magician has a magic staff where he keeps all his magic power. If you had magic power where would you keep it? In your backpack, in your hat, in your desk? Name two things that your power lets you do that you cannot do without it. Would you want to be invisible, to fly, to have new toys? If you could give one of your powers away who would you give it to?

PRINCES AND PRINCESSES: Pretend you are a prince or princess. What clothes would you wear and where would you live? Would you go to school? Would you have to do homework? If you were a princess what would be different from the way you are now?

MUSIC: Listen to Scheherazade by Nikolai Rimsky-Korsakov. Discuss the origins of the piece and talk about which parts you liked best. Read the story of Scheherazade and talk about how the music fits the parts of the story. Listen to Scheherazade (Vienna Philharmonic)

DIFFERENT STORIES: The original story in this Guide is quite different from the story in the play. Can you identify the different parts? Why do you think the story is different? If you could change the story what would you put in?

CREATIVE WRITING: Aladdin is just one of many stories from The Arabian Nights. Have the children write a story that is all their own using the same characters: Boy, girl, magician, sultan, genie – maybe even give them different names. Discuss what their new story is about. Love, power, freedom, good over evil? What can the characters do to prove they have these things?

---

ArtReach's "Jack and the Beanstalk" Glossary
Getting Ready for a Hill Country Adventure!

Old Timers: Old timers are people who have been around a long time. In Appalachia music and stories are often called "old-timey" because they are passed down from generation to generation.

"Appalachia music & stories are often called old-timey."

Auburn Area Community Theatre, AL performs ArtReach's Jack and the Beanstalk

Sassafras: A sassafras tree has aromatic leaves and bark; it is often used to make tea. The word is often used to describe someone who is "sassy".

Holler: This word is slang for "hollow", used in Appalachia to describe a small rising valley region between two hills or mountains. In this play Jack lives in Sweetwater Holler and is nicknamed "Sweetwater Jack".

Fee Fie Foe Fum: Nonsense syllables which appear in an old-time fairy tale Jack and the Beanstalk. These nonsense words are changed throughout the play to create humorous rhymes.

"Jack lives in Sweetwater Holler and is called Sweetwater Jack."

Auburn Area Community Theatre, AL performs ArtReach's Jack and the Beanstalk

Flapjacks: A thick, sweet cake made of oatmeal usually with molasses or honey. The words sometimes describes pancakes.

Fairy Fay: Fay is a form of the word "Fairy". Fairy is an airy mythical being with a kind disposition. So the term "fairy fay" in Polly Wolly Doodle probably is a kind endearment.

Crescendo: A gradual increase in the loudness of a sound or section of music. In this play the audience and players are asked to build their sounds and movements to a "crescendo" so that when the beanstalk is grown it will be exciting as possible.

"Hop Along Cassidy, a name for a cowboy hero of wild west fiction."

Auburn Area Community Theatre, AL performs ArtReach's Jack and the Beanstalk

Strum Along Cassidy: This character's name is a play on the name of Hop Along Cassidy, a name for a cowboy hero of wild west fiction.

---

East Pointe Drama Holds Poster Contest, ArtReach's The Little Mermaid
Greenwood Life, AR
Easy for you, creative fun for them!

Take a cue from East Pointe Drama Club! Partner up with art class and have kids create posters for their upcoming ArtReach play performance. Display all of them in the school halls for a week before the performance to create excitement. Have the kids or teachers take a vote and present the award at the end of the performance. East Point Drama Club had a great time with their contest:

East Pointe Drama Club held their annual poster contest for the upcoming performance of "The Little Mermaid." Look for posters at ARVEST Bank.

Have a Drama Poster Contest!

(L to R): 1st grade winner, Jadyn Townley, not pictured; 4th grade winner, William Gaines; 3rd grade winner, Mason Williams; 5th grade winner, Carolyn Young; and 2nd grade winner, Avery Maxwell.

Consider asking a neighborhood business such as a bank or market to display the posters for a month after the performance!

---

STUDENT SHOWCASE: 1000 PAPER CRANES
Academy at the Lakes, Land O' Lakes, FL

One 6×6 inch piece of paper plus 20 intricate folds equals one origami paper crane. In Japanese legends, cranes are powerful creatures that are respected for their ability to bring luck and grant wishes. The legend states that when one thousand cranes are created, the crane will grant a wish or eternal luck. Art students in grades 5-12 worked for two weeks to create one thousand paper cranes. Afterward, the students combined the cranes into garlands. Finally, the installation art piece was complete and ready for its theatrical debut.

Art students in grades 5-12 worked for two weeks.

ArtReach's A Thousand Cranes at Academy at the Lakes, Land O' Lakes, FL

In collaborative fashion, the Middle Division joined hands with the Upper Division to make a unique drama class this fall. Together they rehearsed and staged "A Thousand Cranes" by Kathryn Schultz Miller. A true story of peace arising from the aftermath of the atomic bomb in Hiroshima, the story still rings true today. The crane is a symbol of peace in Japan, so Sadako Sasaki, the protagonist, decides that if she makes a thousand cranes, she will survive her bout with leukemia and live; however, her wish does not come true. Even ten years after the bombing, children and adults still felt the effects of the atomic explosion. Now a statue stands in Hiroshima celebrating her life. In studying and preparing for the play, Academy actors learned about Sadako, her real life, and the historical events and effects of the bombing. In addition they learned about Kabuki theatre, the national theatre of Japan. Drama students performed the play for grades 7-8 on October 29 and 30 during Advisory.

Each year, students from all over the world make groups of one thousand paper cranes and send them to the Children's Peace Monument in the Hiroshima Peace Park in Japan. The installation piece created by Academy students will be displayed here on campus. The piece stands as a reminder of the importance of world peace and the individual role each of us plays in creating a peaceful world.

---

Heroes Are Made of This: Studying the Characters of Heroes
Language Arts/Social Studies Classroom Activity for A Thousand Cranes
First Stages Theatre, Milwaukee

(This activity is in the online A Thousand Cranes study guide: https://www.firststage.org/media/pdf/CRANES_EG.pdf
Taken directly from: http://www.readwritethink.org/lessons/lesson_view.asp?id=784)

1. Divide the class into small groups, and ask them to list as many heroic and un-heroic traits as they can.

2. After allowing students ample time to brainstorm in their groups, ask each group to share their ideas.

a. As students list their traits, write them on the board, chart paper, or an overhead transparency so that you have a class list of traits. Ask students to copy the traits down for later use.

b. Ask the class to infer any heroic traits based upon un-heroic traits or vice versa.
A Powerful Story About a Real Hero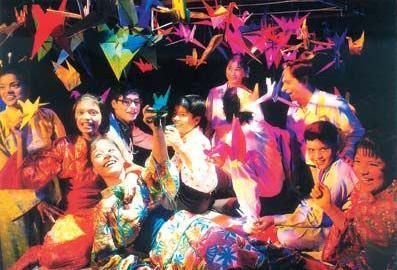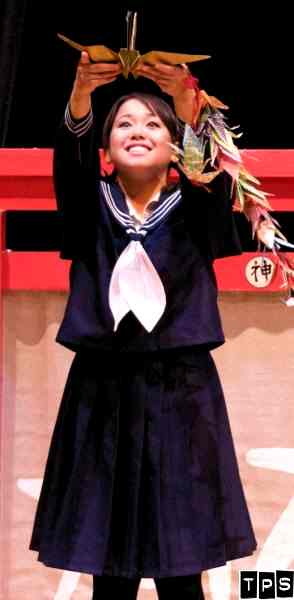 The National School of Drama, Delhi, India - First Stage Milwaukee
For A Medium Size (Medium) Cast of Teens, Middle Schools, High Schools
3. Next, ask the class to discuss why these various traits listed are classified as heroic or un-heroic.

a. Make a point of identifying which traits the class agrees on and which there is some question about. It is fine if there is disagreement. The point with this exercise is not to create consensus but to explore the idea of heroism, which is a culturally constructed concept.

4. Ask students to name heroes-historical, contemporary, or fictional. List the names students share on the board, an over head, or chart paper.

5. Ask students to name some villains-historical, contemporary, or fictional. Again, list the names students share on the board, an overhead, or chart paper.

6. Once you have a good list, ask the class to discuss the individuals on the board, using the following questions to guide the conversation:

a. Do we agree on who is or isn't a hero?

b. When we disagree about whether someone is a hero, what are we considering? Why do we disagree?

c. What makes the heroes, heroes?

d. And what makes the villains, villains?

7. After the discussion, make any adjustments or revisions to the class list of heroic and un-heroic traits.

8. Ask students to return to their small groups and arrange the heroes whose names they gathered at the beginning of the session into categories other than historical, contemporary, and fictional.

"What makes heroes, heroes?"

Pima Community College, AZ - Honolulu Theatre for Youth

9. Come back together as a class, and ask each group to explain what categories they created and who they listed in each.

a. Ideally, as this discussion progresses, students may begin to speculate that heroes and heroism are not fixed terms.

10. After reading the story of Sadako, or seeing the production of A Thousand Cranes, have students discuss how Sadako can be viewed as a hero.

a. What heroic traits that were listed previously does Sadako possess?

b. Who are other heroes mentioned earlier that share similar traits and qualities with Sadako?

---

Creative Ideas for ArtReach's Beauty and the Beast Activities
Beauty and the Beast: Exercises & Activities

Discussion: Before the Play:

Talk about theatre and what a play is. What other plays have you seen? Describe them to the class. Why do you think certain parts of those plays are memorable to you? What do you expect this play will be like? What is the difference between seeing a play on television or movies and seeing actors perform it live?

Discuss you students the proper etiquette for audience members during a live performance. Impress upon them that the actors they see are live people who care very much how you respond to the work they are doing. Young audience members should learn the meaning of applause and laughter and that they should be polite to the people who are performing for them.

Read the original story and the synopsis of the play that appear in this Teachers Guide. How are the stories alike? How are they different? Talk about the practical consideration of putting on a play and why the actors might need to adjust the story in order to present it on stage.

The play takes place in France where they used to tell fairy tales. Look up France on the Internet and in books, locate it on the globe. Talk about what we know about the country, history, music and the people. What kinds of clothes do they wear and what did the wear in years past? Remember your answers when you see the actors in their costumes. Or if you are performing in the play use the pictures you find to help create your costume.

"Children will participate by helping make sounds etc."

ArtReach's Beauty and the Beast - Theatre in the Park, Severna Park MD

During the play, children will be asked to participate by helping make sounds, wind, music, wolves, etc.. Describe a storm, scary forest, angry mob or ferocias wolves and talk about how they sound and move. Point out the actual events or other plays or movies you may have seen. How does your play relate to events in "real life" or other "fantasies"?

Talk about clothes and what they say about your personality. Name some of your favorite movie stars or musicians and how the clothes they wear shape the image we have of them. What makes some clothes come into fashion why others go out of style. Describe your favorite shoes, hat and coat. What makes you like them? How do you feel when you wear them?

Discussion: After the Play:

Discuss in more detail the play you have just seen. Who is your favorite character and why? Talk about how the actors created the illusion of many things such as the castle, the forest, the marketplace and the invisible painting that Marcel sets up. Talk about how you were asked to use your imagination as opposed to movies and cartoons that show you a picture of everything.

Talk about some of the characters you saw in the play such as the Villagers and Household Servants. What did they do with their voices and bodies to convey their character to you? Would you like to try your hand at acting? Write down the names of characters such as Beast and Wolves. Come up with crazy names as Huey Kazooie and show the class how Huey would act and talk. Choose other characters, perform them and ask your classmates to guess who you are.

Charles Perrault wrote many play besides Beauty and the Beast. What titles are you familiar with? Can you recount these stories? Which do you like best and why?

What do you think a magical Prince-turned-Beast would actually look like? Draw a picture of the Beast showing how he thought he looked once like a Prince. Draw a picture of the Prince before he turned into a Beast.

What is the meaning of this famous story? When people say "his bark is worst than his bite" what do you think they mean? The Prince embarrassed when he realized he had been tricked and turned into the Beast. What might he have done to prevent this embarrassment?

"Would you like to try your hand at acting?"

ArtReach's Beauty and the Beast - Monkton Central School, Bristol, VT

Classroom Activities:

CLASS STORY: Read a version of the story as a class. View an animated version and compare the two. After seeing the show, compare all three genres.

BEING A HERO: Ask the class what it means to be a hero. Brainstorm a list of qualities that make a person seem like a hero. In groups, pick the most important qualities and identify heroes today. Share as a class. Discuss whether or not there is a hero in Beauty and the Beast.

JOURNAL ACTIVITY: Have students imagine that they are in Beauty's shoes. In order to save their fathers, the students have to live with a terrifying beast. What would it feel like? Would the students have the courage to do it?

"YOU ARE A HERO!": Ask students to write about a time in their lives when they had to overcome something or helped someone.

FROM THE OUTSIDE IN: Have students imagine that they could only show people their worst qualities. No one would ever know the good qualities they had deep down inside. What would that look like? What would it feel like? Have students draw what that person would look like, and write a story to go along with it.

FRACTURED AND FUNNY: Have students write a fractured version of Beauty and the Beast. Explain that a fractured fairy tale is made to be humorous by changing the story in a surprising way; like changing a character or adding today's language and events to the story. Encourage the students to take creative risks.

NOW YOU SEE IT, NOW YOU DON'T: The element of magic is common in fairytales. In Beauty and the Beast, things aren't always what they seem. Explore optical illusions. Look at examples as a class. View optical illusions as a class using the internet and books.

"Activity: Rewrite the ending of Beauty and the Beast."

ArtReach's Beauty and the Beast - North Texas Performing Arts, Plano TX

AROUND THE WORLD ONCE UPON A TIME: Research different fairy tales from around the world and different times.

HANDING INFORMATION DOWN GENERATION TO GENERATION: Gather students on the rug and have them sit in a circle. Explain that fairytales were handed down through word of mouth. Pretend that each student sitting in that circle is another generation. Play a game of "telephone" (one person thinks of a sentence and whispers it in the person sitting next to him/her's ear, and that person passes, and so on) to demonstrate how stories change.

RE-WRITE HISTORY: Ask students to rewrite the ending of Beauty and the Beast. What would the play version of this look like? After rewriting the way the story turns out, have students design a scene from their versions (the castle, forest, etc&ldots;) using only their imaginations to guide them.

FINISH THE PICTURE: Have students design what the costumes would look like. Remind them that the story can take place anywhere and in any time period.

---

ArtReach's The Legend of Sleepy Hollow is Creative Fun for Students
Classroom Discussions and Activities from Teachers Guide

BEFORE THE PLAY:

1. Read the outline of the play and the glossary that appears in this Teacher's Guide. Advanced students should read the original story by Washington Irving. When he wrote this story it was one in a whole book of stories called The Sketch Book. Rip Van Winkle is another famous story in the book. Can you tell the story of Rip Van Winkle?

2. Washington Irving is called "the father of American literature". Why do you think they called him that? Washington Irving was born when George Washington was president and was named in honor of him. How long ago was that? Does that seem like a long time to you? Actually, it is a very short time for a nation to exist. American is still a young country. Before The Legend of Sleepy Hollow was written there had been few American writers who were considered to be very good, so Americans were very proud of him.

3. How do you know if a writer has written something good? Consider some of he rich phrases in Irving's writing:

"Katrina was&ldots; plump as a partridge, ripe and melting and rosycheeked as one of her father's peaches."

"Ichabod's head was small, flat at top, with huge ears, large green glassy eyes and long snipe nose."

Can you see how Irving helps us to imagine his story vividly because of his talent for writing?

4. What do you like to do in autumn? Carve a jack-o-lantern, drink apple cider, gather pretty leaves? Talk about autumn and how that season affects us. Do you know any scary stories? Sit in a circle as if around a fired and tell each other ghost stories that you know.

Washington Irving: The Father of American Literature

ArtReach's The Legend of Sleepy Hollow - Gaffney Little Theatre, SC - DCP Theatre, Telford, PA

AFTER THE PLAY:

1. Talk about the play you have seen. Was it how you imagined the story when you read it? What things are different and which are the same? Have you seen the Walt Disney movie version? How were the two versions different? Why did we laugh at Ichabod? Did you want Katrina to marry Brom bones or Ichabod?

2. Consider all the food that is described in the play. What kind of food do you like to eat in autumn - pumpkin pie, caramel apples, apple strudel? Bring your favorite recipes (ask you parents to help you) and share with the class. If you give each other copies you will soon a book full of autumn treats!

"Share your experiences with your classmates."

ArtReach's The Legend of Sleepy Hollow - Winthrop High School Drama, Winthrop MA

3. The people of Sleepy Hollow, Dutch settlers who came from Holland to live in America, are much like the pilgrims we think of at Thanksgiving. Many people came to American 200-300 years ago. They came here to pursue a better way of life than they had in Europe. Are you descended from early American settlers? Talk about other immigrants to the United States and discuss the issue of immigration in American history.

4. Did you laugh because Ichabod was scared of the Headless Horseman? Why was that funny?

5. Have you ever been scared of something that turned out to be harmless/ have you seen movie that scare you? Share your experiences with your classmates.

6. What things (movies, books, darkness etc.) scare you? Tell us what you do when you're scared. Can you help each other figure out how not to be afraid of things that really aren't there.

---

ArtReach's The Emperor's New Clothes
Classroom Exercises and Activities - General Preparation and Discussion

Before the Play:

1. Talk about theatre and what a play is. What other plays have you seen? Describe them to the class. Why do you think certain parts of those plays are memorable to you? What do you expect this play will be like? What is the difference between seeing a play on television or movies and seeing actors perform it live?

2. Discuss you students the proper etiquette for audience members during a live performance. Impress upon them that the actors they see are live people who care very much how you respond to the work they are doing. Young audience members should learn the meaning of applause and laughter and that they should be polite to the people who are performing for them.

3. Read the Hans Christian Andersen's story and the Outline of the Play that appear in this Teachers Guide. How are the stories alike? How are they different? Talk about the practical consideration of putting on a play and why the actors might need to adjust the story in order to present it on stage.

4. The play takes place in Russia where they used to have Emperors rule the country. Look up Russia on the Internet and in books, locate it on the globe. Talk about what we know about Russia. What kinds of clothes do they wear and what did the wear in years past? Remember your answers when you see the actors in their costumes. Or if you are performing in the play use the pictures you find to help create your costume.

"Kids participate by helping Peter the tailor."

ArtReach's Emperor's New Clothes - Greenbrier Valley Theatre WV

5. During the play, children will be asked to participate by helping Peter to make the sounds of the looms at work. Describe a loom or show a picture of one and talk about how they work. Explain that the cloth is woven from textile fibers. Point out the clothing of class members and show how different colors of thread make patterns. In the play Peter weaves threads made of gold!

6. Talk about clothes and what they say about your personality. Name some of your favorite movie stars or musicians and how the clothes they wear shape the image we have of them. What makes some clothes come into fashion why others go out of style. Describe your favorite shoes, hat and coat. What makes you like them? How do you feel when you wear them?

After the Play:

1. Discuss in more detail the play you have just seen. Who is your favorite character and why? Talk about how the actors created the illusion of many things such as the palace, the marketplace and the mirror the Emperor looked into. Talk about how you were asked to sue you imagination as opposed to movies and cartoons that show you a picture of everything.

2. Talk about some of the characters you saw in the play such as the blacksmith and the horse, the cabinet ministers and the Empress. What did they do with their voices and bodies to convey their character to you? Would you like to try your hand at acting? Write down the names of characters such as elephant and antelope. Come up with crazy names as Huey Kazooie and show the class how Huey would act and talk. Choose other characters, perform them and ask your classmates to guess who you are.

3. Hans Christian Andersen wrote many play besides Emperor's New Clothes. What titles are you familiar with? Can you recount these stories? Which do you like best and why?

4. What do you think magical clothes would look like? Draw a picture of the Emperor showing how he thought he looked in his "magic clothes". Draw a picture of the magic clothes you would like to wear.

5. What is the meaning of this famous story? When people say "the Emperor has no clothes" what do you think they mean? The Emperor was embarrassed when he realized he had been tricked. What might he have done to prevent this embarrassment?

---
Classroom Activities Page 7: < Prev | 1 | 2 | 3 | 4 | 5 | 6 | 7 | 8 | 9 | Next >
All Free Resources