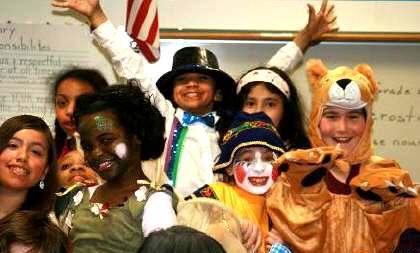 ArtReach Children's Theatre Plays
Great Plays for Great Kids!
Plays, Scripts, Musicals for Children, Kids, Teens, Families, Schools & Theatres
.
ArtReach
Award-Winning Children's Plays, Christmas Plays, Christmas Musicals for Young Performers, Children, Halloween Plays, School Plays and Scripts for Large-Cast, Small-Cast Plays. ArtReach Shows for Young Audiences. One Act Plays, One Act Dramas, Comedies for Middle Schools and High Schools. Plays for Touring to Schools, Educational Outreach Theatre. ArtReach One Act Musicals for Children and Young People.
---
NOTE: This information is for standard downloads of documents (Sripts, Teachers Guides, Licenses). For information about the FULL DOWNLOAD option which includes MP3 Audio files (Soundtrack), click MAC FULL DOWNLOAD.
Documents (Scripts, Teachers Guides, Licenses) can be downloaded directly from our site. Use our secure online Shopping Cart and you'll get your PLAY right away, and you'll also save on shipping and handling costs -- GREAT FOR INTERNATIONAL CUSTOMERS!

Documents are available in the universally standard Adobe PDF file format (Windows or MacIntosh). If you don't have Adobe Acrobat (or Adobe Reader), you can download a FREE copy of Adobe Reader for viewing and printing PDF files here...
---
When you order a DOWNLOAD you'll get an online RECEIPT web page which has a LINK ("Download", in blue) below the item name. Your Order Confirmation email also has the same LINK.

Example of item name and download LINK shown on your RECEIPT...
Quantity

Name

Your
Price

Total

1

A Christmas Carol School Play Package DOWNLOAD (ship CD)
Download << click here to download

$99.95

$99.95
Click "Download" to download and open the PDF file directly in Adobe Reader. Once the file is open, you can print it (standard paper) or save it to your computer from Adobe Reader. (Firefox users see below)

If you want to save the PDF file without opening it in Adobe Reader, then press CTRL-Click (or RIGHT-Click if configured) to get the link option menu...

Select "Download Linked File" and then select the location where you want to save the PDF file.
---
Special Info: If you get the following message when you try to download, click here: Special Mac Info.
---
Firefox Downloads - If you're using the Firefox web browser (instead of Safari), you'll get the following dialogue when downloading PDF files...
---