TEACHER REVIEWS
What teachers, directors, customers are saying about ArtReach's plays & musicals
Rave Reviews for ArtReach

"I've done ArtReach shows and love how accessible they are for children. The sound FX are always delightful and easy to manipulate. You are doing very, very good and important work. Thank you so much. I can't think of much else more important than infecting children with the joy of creation."
Roberta Gore, Church & School of the Ascension, Westminster, MD

"Thanks for offering such fun, great, play options for schools/companies with a very low budget! We are so excited!"
Heather Begay, Connect Theatre Arts, Warr Acres, OK

"I must tell you I love your plays. I have travelled all over the country and taught and love the feasibility and adaptability of the plays. I have done "AThousand Cranes" with Middle School and done "Peter Pan" with elem and MS and currently working on it with HS (This is their first "real" show-----They love it!)
Susann Colonna, Northern Cambria School District, PA

"I've worked with multiple play companies in community and professional theatre settings. So glad to have found a company geared to the needs of elementary school. Thank you!"
Hailey Fowler, Kilough Elementary School, Dawsonville, GA

"Fabulous company to work with! Very flexible, everything you need to stage a great show & at very competitive rates."
Sheena Liversidge, Horncastle Young Stages, UK

"I've used ArtReach plays for years! They are great for big groups and allow the smallest and largest roles. The plays are well written and of high interest to students and audience."
Shannon D. Wynne, Tatum Ridge Elem School, Sarasota, FL

"We've done Beauty and Beast, Alice in Wonderland, Wizard of Oz and Cinderella. All were excellent. It's all about having fun in rehearsal. The end product is always top!"
Vera Mijodragvic, Rainbow School, Novi Sad, Serbia

"ArtReach is a great source for material for teachers. Accessible clever theatre for all kinds of kids!"
Karin A. Stratton, Pike High School, Indianapolis, IN

"The quality of the soundtrack music was excellent. We were able to involve all types of students and it boosted their confidence and speaking skills."
Happy Days School, Kathamill Colony, Shivpuri, India

"Thank you for making theater do-able and affordable for kids."
Michelle McCormick, Stage Kids Children's Community Theatre, San Jose, CA

---

The Wizard of Oz -- Our most popular play!
"We ordered The Wizard of Oz and it was a HUGE hit!"
Erin C. Mulder, St. George's Episcopal School, Milner, GA

"Thank you so much for your wonderful play! Our second graders put on The Wizard of Oz! It was spectacular!"
Ginger Gardner, Maquan Elementary School, Hanson, MA

"The Wizard of Oz was a huge hit! Thanks for your wonderful writing! We have thoroughly enjoyed the script and will use your website for years to come!"
Debbie Bush, Teacher, Chattahoochee Elem School, Duluth, GA

"Our students just performed The Wizard of Oz and did a fantastic job! We couldn't be happier. Your script was easy to follow and well written!"
Robin Gammon, Indianapolis School District, IN

"We sold so many tickets! The Wizard of Oz script was easy for our young actors to memorize, and they had a blast!"
Ginger Gardner Maquan Elementary School, Hanson, MA

"Don't know if it's a record or not... but Columbia Children's Theatre is presenting The Wizard of Oz with 156 children!"
Jerry Stevenson, Columbia Children's Theatre, SC

"I can't tell you how much I appreciate what you do! We cast 1st through 5th grade students, in an inner-city school, all second language learners, and they loved it! Your scripts are well-paced, clear, and fun for all."
Greg Tutt, Teacher, Buford Elementary, Lennox, CA

"Our performance was SPECTACULAR! A first grader played Dorothy, and the way the lines were written really helped her to learn them well. I would ABSOLUTELY purchase from you again - for the quality of your plays and your personal helpfulness."
Molly Callender, Teacher, Langley Christian School, BC, Canada

"We put on your Wizard of Oz with our 12 year olds. They loved it! Well done, you are providing a wonderful service!"
Patricia O'Donovan Primary School Teacher, Middleton, Ireland

"The Wizard of Oz was absolutely a wonderful experience from beginning to end. The script was wonderful and easy to adapt so that everyone could participate!"
Donna Stafford, First Grade Teacher, Kinston, NC

"We recently performed Wizard of Oz. It was a hit! We included our special ed students and all those with disabilities. We even had several children in wheelchairs participate."
Suzan Cambridge, Leadership Through Drama, Glenwood, IA

---
"Thank you for your play, A Christmas Carol. It was a huge success at our school! I managed to fit 150 kids into this play by utilizing the singing opportunities."
Colleen Murphy, Music/Drama Teacher, Korean International School

"A CHRISTMAS CAROL was wonderful! The parents loved it!"
June T. Willis, IRR Teacher, Bright Star Elementary School, Douglas, GA

"A Christmas Carol was wonderful and easy to adapt so that everyone could participate and met with success!"
Donna Stafford, First Grade Teacher, Kinston, NC

"Last year's students liked ArtReach's 'A Christmas Carol' so much that I am planning to make this play an annual tradition for my 3rd grade students."
Heather Cheslock, Music Teacher, Woodside Elementary School, WI

"We used students ages 3 through high school and teachers and friends of the school participating. Our little three and four year olds were the wind to carry in the spirits. It was so much fun!"
Phyllis Wilson, Cornerstone Christian Academy, OH

---

"If you love feisty mice, beautiful ladies, fairies, and laughable royals, then you will LOVE A Christmas Cinderella, by Kathryn Schultz Miller."
Lakefront Youth Theatre Experience, New Orleans, LA

"Our Christmas Cinderella was the most successful show to date! Three of the four shows were sold out, and two were SRO! Over fifty kids ages six to seventeen put on a truly entertaining show for the holidays."
The Bremerton Community Theatre Junior, WA

"Thank you for your wonderful scripts and musical plays. I produced and directed Cinderella at Christmas at my children's elementary school. The script was wonderful and the end result was fantastic!"
Caroline Hart, Teacher, Oxford, OH

"We are a residential facility for adults with disabilities. We performed your 'Christmas Cinderella' last year and it was a hit!"
Baddour Center, Senatobia, MS

"Our performance of A Christmas Cinderella went great! The children painted the sets, helped with the costumes and really did a super job. The script was great! I think our 'Greta Snagglebones' will be famous one day."
Katie McAllister, Teacher, Central Elementary School

---
"We did A Christmas Peter Pan last year and FILLED the auditorium. Everyone was overwhelmed at how wonderful it turned out!"
Brooke Iverson, Teacher, Signal Mountain School, TN

"A Christmas Peter Pan is a swashbuckling musical that combines all the magic and drama of the original story with the holiday fun of Christmas Carols and everyone's favorite Christmas characters."
Louisiana Center for Theatrical Arts, Students 7-16, Amite, LA

"A Christmas Peter Pan comes to life. It's almost like we're in a dream! ArtReach writes for kids to perform, making the audience use as much of their imagination as the kids."
Kent Streed, Pendragon Theatre, Saranac Lake, NY

"One of the highlights of the year was "A Christmas Peter Pan" and what a success it turned out to be!"
Derek Braans, Junior School Head, Kingswood College, South Africa

"Angels Academy's students added a holiday spin to the year's Christmas Program with 'A Christmas Peter Pan' story. Even the Christmas Sing-A-Long Songs were sung to familiar tunes with a variation in the words to reflect the program's theme."
The Abaconian, Bahamas

---
"A Christmas Wizard of Oz was absolutely a wonderful experience from beginning to end! The script was wonderful and easy to adapt so that everyone could participate!"
Donna Stafford, First Grade Teacher, Kinston, NC

"We're moving on down the yellow brick road to the Wortham Theater for a Christmas Wizard of Oz. Our 2nd - 6th Graders are gearing up for a performance you will not forget!"
The Rhodes School, Houston, TX

"I cannot tell you often (or loud) enough how much we LOVE your Christmas Wizard of Oz! It was a fantastic show for us.
You are so clever!"
Midge McClosky, Artistic Director, Shawnee Playhouse, PA

"Our children did a wonderful job today. A Christmas Wizard of Oz comes alive when they get on stage. It's really a good experience for all of them."
Tom Weindl, Principal, Whispering Palms School, Saipan

"The message of 'A Christmas Wizard of Oz' is a simple one. There's no place like home... especially at Christmastime."
Pocono Record, Strousburg, PA

---
"A Snow White Christmas was a huge success! For the last two years, we have selected your holiday plays; the opportunity to provide so many students a part in your large cast plays is ideal for our large middle school."
Joni McLeod, Cario Middle School, Mount Pleasant, SC

"I run a youth project for children at risk and we performed your play 'A Snow White Christmas' to rave reviews!"
Sony Matthews, Greenmount Youth Project, Cork, Ireland

"We had more than 90 cast members for A Snow White Christmas. The kids were outstanding!"
Michelle Roy, Middle School Teacher, Russell County Schools

"For her performance as Snow White Emilee McGann received third place as Best Youth Actress/Youth Actor at US Army Europe Festival of One Act Plays. Congratulations Emilee!"
Five Pfennig Playhouse, 414th Battalion, Hanau, Germany

"We love your easy to use scripts and short lines
for kids to memorize!"
Julie Echelmeier, Higginsville Theatre Company, Youth Theatre Academy, MO

---
"It was beautiful. The young leads were particularly gorgeous. Tears in the final scenes. Well done to everyone."
Adelaide - Gemini Collective Production, Australia
"We had two wonderful performances. The play's theme is very appropriate for these times. The students did a superb job portraying the message, which brought me to the verge of tears."
Dorothy Loveland, Bayan School, Bahrain

"The music teacher came up to me and said it brought tears to her eyes. The notes you sent with the play were very encouraging and helpful. It was very special to me to get a chance to have my students tell Sadako's story."
Diane Purvis, Teacher & Librarian

"As one child said... "I really didn't get Sadako when you first told us about her, but now I can see how important she is." Thank you for such a great script that was easy to stage and which had such a beautiful and moving message!"
Mary Westall, St. Therese Primary School, Sydney, Australia

"Thank you for writing such an inspiring children's play. I've been teaching drama for three years and never have my students been more engaged with a story."
Anne Mantha, St. Mary Magdalen School, Hazel Park, MI

"I hope the audience comes away from this play and thinks about peace. I hope they realize to always remember to listen to the wisdom of our children."
Pam Chernesky, Director, Houlton Star Bright Children's Theatre, ME

---
"Thank you very much for the excellent package! I'm going to direct a full school production of Aladdin and the script, resources and teacher's guide are perfect for what I need! The whole purchasing and downloading process was easy, convenient and super helpful!"
Stuart Williams, Westwood International School, London UK

"The Lyncourt School Drama Club in Syracuse, NY performed "Aladdin" to rave reviews from all! We loved the script! A smashing success! Thank you ArtReach! We are looking at "Peter Pan" or "the Wizard of Oz" next year! LOVE your productions!"
Lyncourt School Drama Club Syracuse, NY

"Thank you for such wonderful plays! As you can tell, I love them because I keep ordering them! I was elated when I saw that you had done Aladdin. I read the whole play today and I cannot wait to put this together!"
Sara Takeuchi, Teacher, Taylor Elem, West Chester, OH

"I am still getting accolades for Aladdin this year. It is all because of your script which was so much fun for the kids. They really got into it. You make my job easy!"
Keith Wagner, Saint Paul School, Leesburg, FL

"We had first through sixth graders performing Aladdin. It's a really charming, funny adaptation."
Holli Hornlien, Solano Youth Theatre, Vacaville, CA

"Aladdin is SO WELL WRITTEN. It is going to be great fun to put on. Thank you!"
Sara Takeuchi, Teacher, Taylor Elem, West Chester, OH

"The show Aladdin was humorous and had a great story line! The cast loved what they did and it showed on their faces and in their final product. A magnificent production!"
Taylor Araujo, Life Skills Class, Pontiac High School, IL

---
"We love your easy to use scripts and short lines for kids to memorize!"
Julie Echelmeier, Higginsville Theatre Company, Youth Theatre Academy

"We had about 25 speaking parts and 35 ensemble parts! We will continue to come to you for all our children's plays."
Karen Dougherty & Nancy Lockhart, Jackson School, Lawrenceville, GA

"Our Club includes 3rd through 5th graders. We love your scripts!"
Jennifer Sypert, Mesquite, Texas

"Our community theater performed Alice in Wonderland. It was great fun and a huge hit. The children are already asking what play we are planning next. We will definitely use ArtReach Plays again!"
Pontotoc Community Theatre, Pontotoc, MS

The script follows Carroll's story as you know it, infused with holiday fun entertainment: everyone is getting ready for Christmas. The Mad Hatter has a silly tree decorating party, the Cheshire Cat can't understand why her stripes are green and red and the Queen of Hearts hasn't an ounce of holiday spirit.

---
"We did Alice in Wonderland last year. It was enjoyed by everyone. Super children's play and thanks to you for your beautiful script."
Greenwood Kindergarten, Teacher, Hyderabad, Andhra Pradesh, India

"Our community theater performed Alice in Wonderland this past weekend. It was great fun and a huge hit! The children are already asking what play we are planning next. We will definitely use ArtReach Plays again."
Mandi Stutsy, Teacher, Pontotoc Community Theater, MS

"Excellent! The audience loved it!"
Jordan Cameron, Madison Middle School, Rexburg, ID

"Our school has just finished our Alice in Wonderland production and it was fantastic. Thanks for such a fantastic script!"
Danni Mattiazzo, Larrakeyah Primary School, NT, Australia

"Everyone gets a part big or small, they all participate!"
Theresa M. Johnson, Parks & Rec, City of Kerman, CA

"Students and teachers could not get enough of Alice in Wonderland play, they love it."
Blanca Muniz, Teacher, Ramey School, Puerto Rico

"I did your Alice In Wonderland at my camp this summer and it went great. Much thanks."
Ellen Flaks, You Are The Star Creative Drama, Springfield, PA

"We love your children's plays! We did Alice in Wonderland with 75 students, and every child had a part! We loved that we were able to expand the numbers to fit our drama club. It is very hard to find scripts for large groups (over 90 this year)."
Karen Dougherty & Nancy Lockhart, Jackson School, Lawrenceville, GA

"My homeschool group performed Alice in Wonderland and it was a HUGE hit with our co-op. We had a packed house!"
Michele Wiley, Tifton, GA
"The audience was enthralled by the fantasy world of Alice in Wonderland, this year's Primary Production."
Students Years 5 and 6, Bangkok Patana School, Thailand
"We did Alice in Wonderland and Wizard of Oz last year. Both were huge successes!"
Beth Bankler, Drama in the Afternoon, Lawrence School, Brookline, MA

---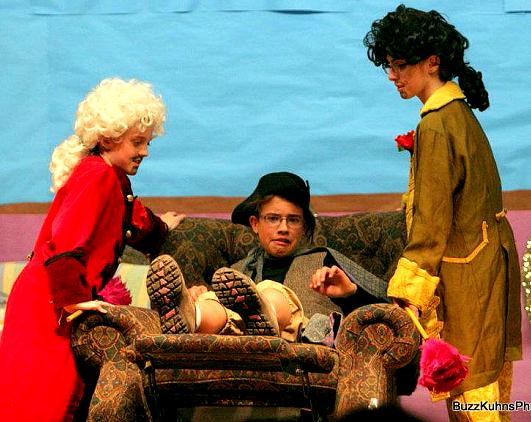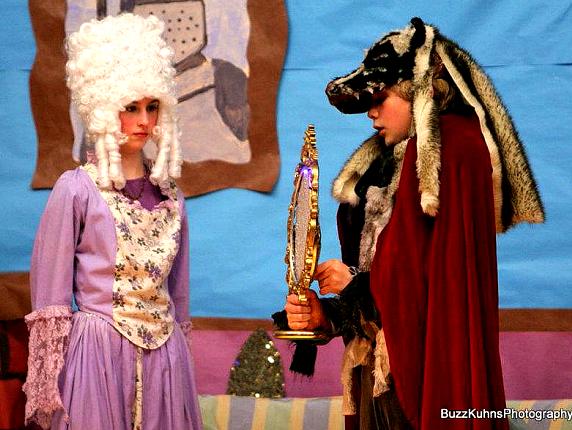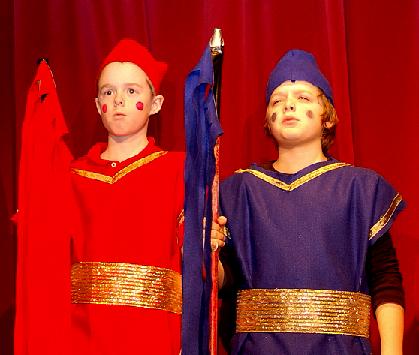 "ArtReach's "Beauty and the Beast" is a definite go for next year. The kids read the perusal script and really liked it! They chose yours over the Disney version hands-down."
Joseph Reynolds, Gerisch Middle School, Southgate, MI
"Our group recently performed Beauty and the Beast - it went great!"
Lisa Kelly, Stillwater, OK
"I love the adaptation you did of the story by Charles Perrault. Beauty and the Beast is beautiful, you did an amazing job with it."
Joice Riedel, Ontario Local Schools, OH

"We have had huge successes the past two years with Peter Pan and Beauty and the Beast...we love your shows! Keep them coming!"
Jan Plank, Director, Temple Beth Hillel Day School, Valley Village, CA

"I just performed Beauty and the Beast with my 4th and 5th grade drama club last night and it was AWESOME!! I love your plays!"
Holly Kidwell, Teacher

---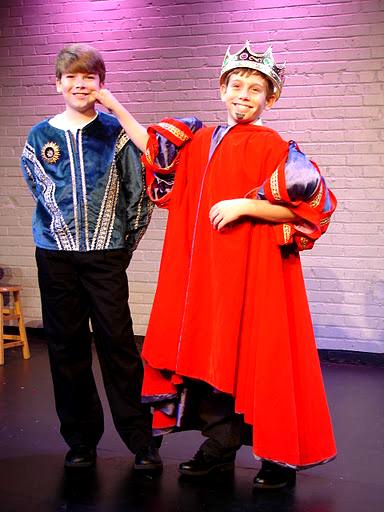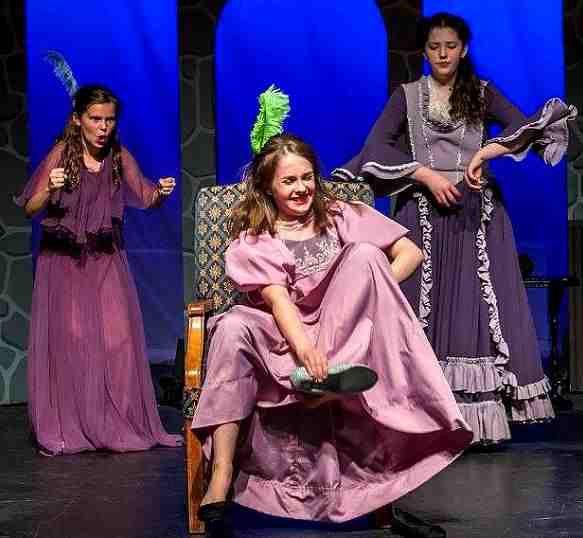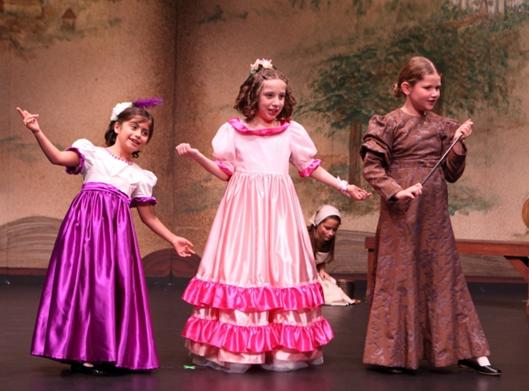 "I produced and directed 'Cinderella' at my children's elementary school. The script was wonderful and the end result was fantastic!"
Caroline Hart, Teacher, Oxford, OH

"This Cinderella is the right fit! Kathryn Schultz Miller's children's theatre production breathes new life into this timeless tale. The Community Players brought together 45 children for the production!"
Cattoosa County News, GA

"Young children love this play version of Cinderella! You have a customer in me for as long as I am able to direct plays!"
Carol Ellingson, Teacher, Home Connections, Blaine, WA

"The ultimate Rags-to-Riches story, Cinderella is a tale of transformation and magic that has enchanted young and old for generations. We loved the comic bits!"
Drama Club, St. Dorothy School, Wilmington, MA

"We are a residential facility for adults with disabilities. We performed your 'Cinderella' last year and it was a hit!"
Baddour Center, Senatobia, MS

---
"We just had our performance of Emperor's New Clothes this past weekend. It was a riot! And the children had a blast doing it!
Tricia Oliver, ACT 2 Instructor, Auburn Area Community Theatre, Auburn, AL

"We were so thrilled with the play, Emperor's New Clothes, we can't wait to do another one of ArtReach's plays!"
Jennifer Kempton, Ida Home Educators Homeschool Association, Rexburg, ID

"Actors for Children Theatre of Flatwoods KY would like to say THANK YOU to ArtReach Children's Theatre Plays for allowing us to produce 'The Emperor's New Clothes' in our inaugural tour in Spring 2013."
Sarah Diamond Burroway, ACT

"Emperor's New Clothes is the sort of hip, jazzy, irreverent show that could get students hooked on theater forever."
Nevada Theatre Company, Las Vegas, NV

"I worked with 11 3rd, 4th,and 5th graders. With 8 (1 and a half hour) weekly rehearsals we pulled it together. The parents were very pleased with The Emperor's New Clothes and I was too. I will certainly be back to get our next script. Thank you!!!!!"
Tricia Oliver, ACT 2 Instructor, Auburn Area Community Theatre, Auburn, AL

---
"If you like adventure, magic, and watching brave deeds overcome giant obstacles, you're in for a grand treat!"
Nancy Eddy, Artistic Director, Children's Museum of Indianapolis, IN

"I absolutely love how you write the scripts. They are perfect for many different ages. We did Jack and the Beanstalk last year as the center of the Summer Theatre Camp. The audience loved being involved and seeing their kids flourish within the script. The script was a burst of encouragement as my friend and I stepped into the adventure of directing."
Christianna Marcy, Loomis Elementary School, NE
"We had 2 sold-out shows for Jack and the Beanstalk!"
Branson Arts Council, Branson, MO
"Jack and the Beanstalk was delightful! The end result was happy teachers, entertained youngsters and a sizable profit for our box office!"
The Hemmens Cultural Center, Elgin, IL

"My theater company just did your Jack and the Beanstalk script for our musical summer camp, and it was amazing. Funny script, easy to do, and it delighted kids and parents. Thanks again, and I look forward to doing more of your scripts!"
Lynne Childress, Building Better People Annapolis, MD

"Our after-school students love your plays. Thank you for all you do!"
Courtney Susman, Greenbrier Valley Theatre, Lewisburg, WV

"Jack and the Beanstalk was a thoroughly delightful children's play and geared perfectly to our primary school body."
Winton Place School, Cincinnati, OH

"Kathryn Schultz Miller, a veteran writer of children's plays, wrote the script, which is specially suited to the very youngest of audiences! Jack and the Beanstalk employs all the devices of spectacle, sound and color that captures youthful attention!"
David Jacobson, Life Newspapers, Eldorado Hills, CA

---
"I LOVE your version of The Jungle Book. I have looked at 5 different versions and yours is the best! I love the fact that there is the focus on Community and that there is such flexibility as far as roles. We have done the Disney Jungle Book but that doesn't have the heart that yours has."
Diana Guhin Wooley, LAMB Arts Ltd, Sioux City, IA

"We had a wonderful, wonderful run with The Jungle Book! A virtual sell out with everyone saying how fantastic it was! The cast had a ball & I am one very, very happy director."
Sheena Liveridge, Horncastle Theatre, United Kingdom
"I loved the new script, The Jungle Book! Very well done. I love your scripts!"
Zach Hodge, Peru Elementary School, Dixfield, ME
"Students prepared for this drama during a theater camp conducted in school. It was an enthralling performance which mesmerized the audience!"
Fountainhead School, Surat, India

ArtReach's The Jungle Book includes all the characters you and your children know and love: Silly and lovable Baloo, funny Ikki the Porcupine, Mowgli's Cub-Brothers, Hathi the Elephant, flying Monkey-People and many more. The Jungle-People are the Storytellers, keeping this adventure fast-paced and fun!

---

"Kid Frankenstein" was, as always, a great script. We've used your plays over the years and always enjoy them so much. We love how easily your scripts come together in a way that is both fun and effective. Thanks for being awesome!"
Andie Fischer, Pretty River Academy, Collingwood, ON, Canada
"I purchased the perusal script for Kid Frankenstein. I loved it!"
Michael Doody, Hilda Walker Intermediate School, Tinley Park, IL
"Kid Frankenstein" is a funny, charming story about Frankie, a young scientist, and Irving (aka Igor), her long suffering friend. Frankie receives a mysterious book called "How I did it" by Doctor Frankenstein, and so begins her quest to create life. She thinks she has put the brain of a recently deceased brilliant monkey into her creature, but has she?"
James Strath Public School, Peterborough, ON, Canada

"Crazy am I? We'll see if I'm crazy or not!" - Mad Scientist Frankie Stein in ArtReach's newest play 'Kid Frankenstein'!
Youth Summer Theatre Program, Grand Rapids, MN

Finally! Frankenstein is Kid-Friendly!
Teachers, this script is a fun and hilarious play for your students! School kids are storytellers who keep the action moving. Your kids will love to play these zany characters!

---

"We had a wonderfully successful production of The Legend of Mulan! Dedicated and happy cast and crew, proud director, administration and parents, and enthusiastic audiences."
Caitlin Barton, Theater Teacher, PS 295, Brooklyn, NY

"This will be our 4th play through ArtReach. We love them!"
Jill Ison Helper Middle School, Price, UT

"Mulan serves as a model, encouraging us to grow up and achieve any occupation we desire - regardless of gender. Come and experience the culture of ancient China with us and you might even be asked to join the cast on stage!"
Island School, HI

"Mulan inspires us to be the best we can be."
Fostertown Elementary Magnet School, Newburgh, NY

"Mulan is finding her purpose in life and finding out who she really is."
Eva Hadley, who plays the main character, Island School, HI

"This play is about the fearless effort of a young woman to save her father from being drafted into the army. She inspires us to be the best we can be through her honesty, bravery and tenacity. She knows it doesn't matter if she is a boy or a girl - she just wants to leave the world a better place, a mark of a true hero!"
Audrey Hummel, Lansing Middle School, MI

---
"The Legend of Sleepy Hollow was a delightful show that packed the house. Enjoyed by children of all ages!"
Sheila Freudenberger, Orange Curtain, San Juan Capistrano, CA

"This show is a perfect Halloween treat!"
Topeka Civic Theatre and Academy, Topeka, KS

"The Legend of Sleepy Hollow has been very successful. Probably one of the most popular productions we ever had here in our Youth Theatre!"
Joe Lauderdale, The Laguna Playhouse, CA

"Pedro Menendez High School's production of "The Legend of Sleepy Hollow, is a wonderfully spooky story filled with thrills, chills and laughs!"
High School Halloween Production, St. Augustine Record, FL

"I think the audience is going to like this play very much," says fifth grade actor Morgan Werder. "It's very interactive and has something for everybody - rivalry, love, suspense and, of course, the Headless Horseman!"
Fairlands Elementary, Armador Theatre, Pleasanton, CA

---
"The Little Mermaid is the third play of yours we have produced! Each play has been a treasure."
Laree Ott, Drama Teacher, St. Anthony Middle School, Kailua, Hawaii

"We had so much fun with The Little Mermaid and what makes it extra special is the CD with sound effects and songs!"
Jennifer Black, Director, Children's Theatre Company, Goderich, Ontario

"We just finished performing The Little Mermaid, and I must say that was another amazing play you have written!"
Mary Ellen Herder, Take A Bow Productions, Chatham, Ontario

"I downloaded The Little Mermaid and fell in love with it! We
will be doing 4 performances. I love your approach to your plays!"
Scott Nelson, Drama Teacher, O'Gorman High School, Sioux Falls, SD

"Philippe (the French chef) brought down the house! The sailors were loved. And Aruba and Finny stole the show. The Reverend Gumbo made our own priest laugh!"
Keith Wagner, Saint Paul School, Leesburg, FL

---
"I loved working with your play The Nutcracker Prince. It was fabulous to have so much of the legwork done for me - sound clips, etc. Thank you!"
Jill Ison, Helper Middle School, Language Arts Teacher, Helper, UT

"Thank you for your wonderful scripts and musical plays. The script was wonderful and the end result was fantastic!"
Caroline Hart, Teacher, Oxford, OH

"ArtReach is a great source for material for teachers. Accessible clever theatre for all kinds of kids!"
Karin A. Stratton, Pike High School, Indianapolis, IN

"It was so easy to work with the children's script and adapt it to my students needs."
Sherri Alejandro, Teacher, Carden El Encanto School, Santa Cruz, CA

On Christmas Day, Clara awakens to the real world - her glorious dream has passed. Yet she has learned a wonderful lesson about Christmas love and joy. ArtReach's lovely holiday play is deeply moving with a very happy ending.

---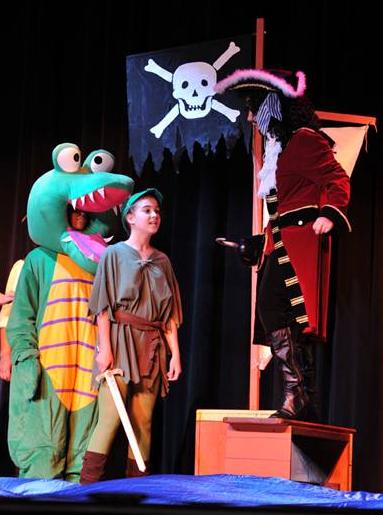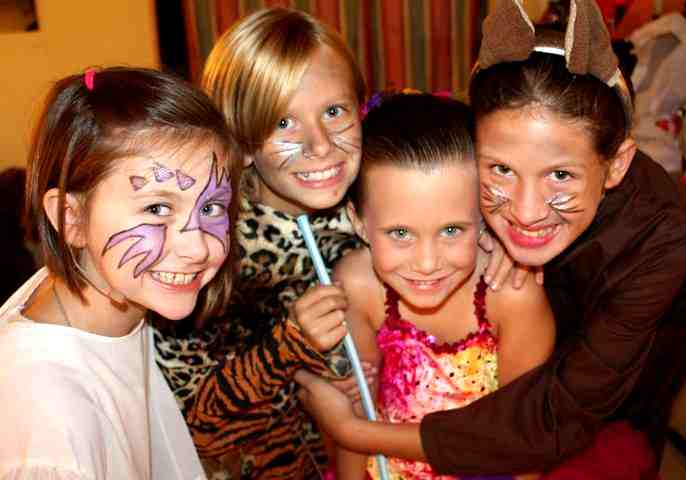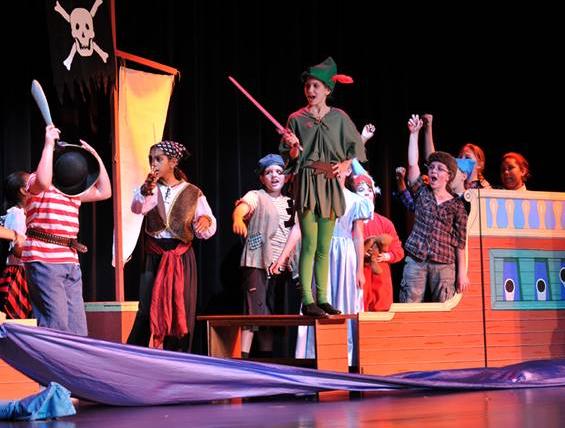 "We just finished our presentation of your children's play Peter Pan, and it was a HUGE success! My principal has asked me if my students would perform the play one more time!"
Allison Sands, Stevens Brook Elem School, Bridgton, ME

"Thank you for writing such a wonderful children's script! We have a cast of 82 fifth grade students in Peter Pan! We added music and choreography to the show."
Higginsville Theatre Company Youth Academy, Higginsville, MO

"We doubled the roles of the lost children and stars. We have 15 chorus Indians, and 10 chorus pirates. All of our students are excited about this great Peter Pan play and we know it will be a great success!"
Nicole Schmitt, Director/Teacher, Gayhead Elementary, Hopwell Junction, NY

"I ordered the children's play Peter Pan for my church's
camp play production. It was incredible! The parents enjoyed it and the children loved doing it!"
Dea Goodson Jackson, Worship Leader, Prayer Chapel Church, Upper Darby, PA

"Our Peter Pan performances are coming up and we're getting so excited! Our Crocodile (and your suggested croc music) is going to be the hit of the show!"
Sarah Ackerman-Hale, Broadway Review, Spring Hill, KS

---
"Your scripts are simply THE BEST for kids! Pinocchio was great...
we got so many compliments...dreams came true!!!"
Sarah Ackerman-Hale, Broadway Review, Kansas City

"I produced the play 'Pinocchio' last year! The children thoroughly enjoyed it. Many thanks!"
Therese Dixon, Hunua Youth Theatre, Papakura, New Zealand

"We had 3rd, 4th and 5th graders in our Pinocchio! Thank you very much for your work and allowing freedom with the scripts."
Scott Kohanek, Kenwood School, Minneapolis, MN

"Pinocchio has been so much fun," said Director Kelly Gilson. "Lots of kids and energy make this a crowd pleaser. We have 32 in the cast and all of the kids -- and parents -- have been wonderful to work with."
Daily Corinthian - "Corinth Theatre Arts Presents Pinocchio", Corinth, MS

"It has been a total joy and blessing working on PINOCCHIO! The kids are acting, building the sets, and working as running crew. They have really been involved in every part of the show, and are having a great time doing it!"
Jean Grewe, Young Footliters, Coralville Center for the Performing Arts, IA

---

"Opening night was a big success for our lovable dragon!"
The Rose Children's Theatre, Eugene, OR

"The richly expressive prose of Kenneth Grahame continues to delight."
The Language Arts Review

"The telling is delightfully tongue-in-cheek. His star attraction is an imaginative animal and he makes this reluctant dragon live."
School Library Journal, starred review of The Reluctant Dragon

"I love working with the kids. To see them light up when they get on stage is the best feeling in the world."
Ariel Long, 15, Dragon, Rose Children's Theatre, Eugene, OR

---
"We had a cast of 90 children for Sleeping Beauty!
Grades K-5th, we had over 700 people attend!
DeWayne Durr, Teacher, Piner Elementary, Morning View, KY

"Sleeping Beauty played to sold out crowds and the audiences absolutely LOVED the show!"
Mary Norwood, Elkhart Civic Theatre, Summer Theatre Camp, Bristol, IN

"Thank you for providing such an excellent script for Sleeping Beauty! It was so easy even for two people with zero experience!"
DeWayne Durr, Teacher, Piner Elementary, Morning View, KY

"We had two fantastic performances of Sleeping Beauty with Standing Room Only audiences!"
Jennifer Black, Children's Theatre Company, Goderich, ON, Canada

"We are doing Sleeping Beauty! The parents and staff have always commented how wonderfully appropriate your plays are for the children. I am priviledged and honored to present them to our community. You have a fan in me!"
Jay Spoerl, Rosholt School District, WI

---
"My cast for Snow White this year was 30 students and we had a crowd of more than 150. It was the BEST!!"
Karen McCafferty, R.D. Wood Elementary School, Millville, NJ

"Thank you for writing this amazing play, Snow White! It was a lot of fun to direct. The daycare center I work for had a blast!"
Cody Bylsma, Club 4 Kids, Inc., Panama City, FL

"What an incredible run of Snow White! We really had a wonderful experience!"
Columbia Children's Theatre, MA

"Last year we purchased and performed Snow White. It was a huge success!"
Nicole Oberdick, Educator, Norton, VA

"Ursuline students, presented "Snow White" to a packed auditorium! The lively performance showcased bright costumes and wonderful performances!"
Ursuline Academy, New Orleans, LA

---
"A wonderful adaptation of Stevenson's classic. Many opportunities to challange more experienced actors while keeping it simple enough for inexperienced actors. It worked tremendously well and was a huge success!"
Andrew Velishek, Child's Play Theatre Company, Montgomery, MN

"The Foster Park Elementary School Drama Club — which consists of fourth and fifth-graders — wowed audiences with Treasure Island. They really made it their own."
T. J. Tyler, Foster Park Elementary School, Union, SC

"Our Day Campers performed Treasure Island: Young Pirates of the Caribbean! All ages participated and made it a great show! We loved the fun songs!"
Gilman Day Camps, Baltimore, MD

"We have thoroughly enjoyed working on TREASURE ISLAND! Our after-school students love your plays! Thank you for all you do!"
Courtney Susman, Greenbrier Valley Theatre, WV

"Everyone has put their unique mark on this wonderful production of 'Treasure Island'! From our audition day through dress rehearsal, the kids have made this their show!"
Jean Goad, Grand Rapids Players Summer Theatre Kids Camp, MN

"After a week long camp, the Children's Glassworks Theater debuted Treasure Island: Young Pirates of the Caribbean! The kids did a great job!"
Northshore, Cleveland, OH

---
"Twas the Night Before Christmas is a fun-filled romp through a hear-warming tale of family love and playful friendship!"
The Pahrump Arts Council (PAC), Pahrump, NV

"We have just performed 'Twas the Night Before Christmas' and everyone said it was our best show yet!"
Karen Dixon, Hunua Elementary School, Papakura, New Zealand

"Our Christmas Play, "Twas the night before Christmas" was a success! It was so cute and fun. The day was everything I had envisioned... great show, cookies/hot chocolate, beautiful church, and snow! Thanks again!"
Maura T. Ridder, Mom's The Word, Denver, CO

"Twas the Night before Christmas is a delightful musical designed to give young performers an opportunity to learn the art of theater while gaining poise, confidence, friendships, a sense of teamwork and practical experience."
Little Starz Productions, O'Fallon, MO

"In 'Twas the Night before Christmas' the audience joins in to help conquer the Abominable Snowman, play reindeer games, dance, sing, giggle and yell to help Izzy and Rosie save Christmas!"
Lancaster Opera House, Buffalo, NY

---
"What a wild ride! The Velveteen Rabbit was such a fun way to end my second to last semester at Pace, and I couldn't have asked for a better experience."
Allie Marotta, PACE School, New York, NY

"The Velveteen Rabbit afforded our students the opportunity to bring the many sweet, vivacious characters of the story to life using their unique talents and personalities. Toys, animals, humans, and even a magical fairy are all a part of this whimsical holiday tale."
Mary Joy Nelson, Executive Director, InnOVATION Arts Academy, Lexington, KY

"The message is that growing up is not an end but a hopeful beginning, full of promise. Our students had so much fun bringing this charming story to life!"
Mary Joy Nelson, Executive Director, InnOVATION Arts Academy, Lexington, KY

"The fanciful story of the Velveteen Rabbit continues to resonate. It offers reading to be savored by viewers and listeners of many ages."
Margaret Bush, Simmons College, Boston (School Library Journal), MA

"Once you are real you can't become unreal again. It lasts for always."
Margery Williams, The Velveteen Rabbit

"Our students had so much fun!"

Wolf Creek Collective, Cape Coral FL

---
"We Are The Dream touched this community like no other event I've been part of. UNBELIEVABLE!"
Marianne Carruth, Tryon Fine Arts Center, Tryon, NC

"Many people tell me that "We Are the Dream" is the best play they've ever seen at their school. I had as few as 16 students in one production, and as many as 42 in another. It's a great show. Thank you!"
Brady McKay Williams, Drama Teacher, Sacramento, CA

"The premiere of a revolutionary play went down like a dream with its audience last week. We are the Dream was performed by youngsters at Woodberry Down Primary School."
Hackney Gazette, London, United Kingdom

"This show is not about rehearsal, not about perfection. It's about faith and love and the message of Dr. King. This dream is for all of us. We are the dream."
Director Marianne Carruth, Tryon Fine Arts Center, NC

"The children knew what this was all about and knew
how to get the key messages across. It was absolutely fantastic!"
Woodberry Down Community Primary School, United Kingdom