FREE RESOURCES: News & Reviews [ Page 1 ]
News media articles, reviews, press releases for ArtReach plays
< Prev | 1 | 2 | 3 | 4 | 5 | 6 | 7 | 8 | Next >
California Theatre Company performs ArtReach's Robin Hood safely during pandemic
Changing Faces Theatre has innovative ideas that reach families, young audiences

"Many, many shout-outs to you and ArtReach for the support. We sure talk you up here in California!"
A Few Words from CFTC Artistic Director, Mike Bartram

In early 2020, Changing faces Theater Company signed a 2-year lease to open an intimate, 60-seat black box-style theater. We pumped over $12,000 transforming a Zumba studio into this acting space. At the end of March, 2020, we were slated for our grand opening gala event, and the world premiere of an original murder mystery, In Lieu of Flowers, Send Wine. However, the pandemic hit at that same time and shut us down.

"We were able to perform safely for families."

ArtReach's Robin Hood - Changing Faces Theatre Company, Lodi CA

We had to quickly pivot, as we still were responsible for rent, utilities, insurance, storage, etc., and there were no breaks. We came up with the idea of taking shows out to the community in a safe, socially distant way, so our Pop-Up series was born. We started with a modified version of Alice in Wonderland, which was a huge success. We took it to parks, cul de sacs, front yards, back yards, etc. We kept the actors separated from the audiences, and were able to perform safely for families, who would be spread out across lawns, sidewalks, driveways, and even into streets. We staged that show 22 times over a matter of 5 weeks or so.

"Robin Hood -- was just as successful."

ArtReach's Robin Hood - Changing Faces Theatre Company, Lodi CA

Then we followed that up with Robin Hood, and it was just as successful. 19 performances later, we closed that show, and after 41 individual performances, we wrapped up our first Pop-Up season. Now we are looking forward to 3 ArtReach shows from May-October, 2021: Pinocchio, Shakespeare To Go, and The Legend of Sleepy Hollow.

We are very grateful to our communities in the Lodi, Stockton, even Sacramento area for helping to keep our theater alive during this challenging time. We are ever so grateful for Kathy Schultz Miller and ArtReach Plays for the kind support during this challenging time.

Mike Bartram. Founder & Artistic Director, Changing Faces Theater Company (http://www.changingfacestheater.org/) Lodi, CA

'Leaders of tomorrow': Students remember Martin Luther King Jr.'s achievements
ArtReach's We Are the Dream is performed by community groups together
David Hurst, TribDem.com, Johnstown, PA

For more than 30 years, the NAACP's Johnstown branch and community partners have been holding memorial services in the Rev. Martin Luther King's memory.

This year, the group decided to hand the reins to the youth they often deliver their message to - and the result was a ceremony that celebrated King on stage and in song.

"We decided to ask the youth to host the program and they decided they didn't necessarily want to have a keynote speaker. They wanted to do a play," said Alan Cashaw, NAACP Johnstown branch president.

Martin Luther King's Life in Play for Young People

NAACP Youth Council, Greater Johnstown High School Unity Club & Christ Centered Community Church youth group.

Instead of speeches and sermons, a group of 20 children between the ages of 4 and 18 wore 1960s-era attire on Greater Johnstown High School's Cochran Auditorium stage and retold some of King's greatest triumphs and struggles in his fight for equality.

"We want freedom," children chanted, re-enacting the pivotal moment in what later became known as the Children's Crusade in Birmingham, Alabama.

Cashaw said many members of the local NAACP branch remember the turbulent 1960s well. They remember the struggles, the marches on Washington, D.C., and the shocking day King was gunned down on a balcony outside a Memphis hotel room. But for the young generation standing on stage Sunday, it might otherwise be just another chapter in a history book, if the stories and their importance aren't kept alive, Cashaw said.

"The best way to remember Dr. Martin Luther King is to remember his life ... and that is what this is all about," Cashaw said. By acting out those moments, they are learning stories they can share with future generations, he said.

"They are the leaders of tomorrow," Cashaw added.

"King's greatest triumphs and struggles in his fight for equality."

NAACP Youth Council, Greater Johnstown High School Unity Club & Christ Centered Community Church youth group.

A crowd of about 160 people attended the event.

Greater Johnstown, Bishop McCort, Divine Mercy Catholic Academy East and Conemaugh Valley students served as the actors in the play, titled "We Are the Dream."

Cashaw said they were primarily local members of the NAACP Youth Council, Greater Johnstown High School Unity Club and Christ Centered Community Church youth group. Youth advisers Toni White and Francine Cashaw said they began working with the group in October. They praised the children for immersing themselves in the play, sometimes for three days a week. Several went online and researched the styles of the 1960s to fine-tune their looks, they said.

"A lot of them already know about Dr. King ... they've learned a lot of this at one point or another," Francine Cashaw said. "But by acting it out on stage, they're making it real."

Peninsula Youth Theatre's 'Hollow' opens Friday in Mountain View
STEPPING OUT: Written by Los Altos Town Crier Staff - Town Crier Report

"A great mix of comedic moments and spooky fun!"

Spencer Cook of Mountain View stars in PYT's "The Legend of Sleepy Hollow."

Peninsula Youth Theatre's production of the Halloween classic ArtReach's "The Legend of Sleepy Hollow" is slated to run this weekend on the SecondStage at the Mountain View Center for the Performing Arts, 500 Castro St.

When a new school teacher comes to Sleepy Hollow, he disrupts Brom Bones' courtship of the fair Katrina, prompting Brom to seek revenge.

PYT alumnus Max Venuti directs "Hollow," featuring actors Spencer Cook, Naomi Eason, Josh Gefken, Ani Lawit, Talia Lawit, Eliott Leblond, Ben Siegel, Olivia Spreen and Michael Tucker.

"It's been such fun to work with this talented cast to bring this story to the stage for my directorial debut," Venuti said. "This entertaining script is ensemble based and has a great mix of comedic moments and spooky holiday fun."

"Stories on Stage program, appropriate for ages 8 and above."

Peninsula Youth Theatre, The Legend of Sleepy Hollow, young cast.

Part of PYT's Stories on Stage program, the 45-minute black-box production of "The Legend of Sleepy Hollow" is appropriate for ages 8 and above. An optional 15-minute talk-back with the cast and crew follows each performance.

Schooltime shows are slated 9:30 and 11 a.m. Friday; standard performances are scheduled 11:30 a.m. and 1:30 p.m. Saturday.

Tickets are $11 for the Friday performances and $13 for the Saturday shows. Discounts are available for groups of 10 or more.

For tickets and more information, call 903-6000 or visit mvcpa.com.

Alice in Wonderland, Primary School Production
Bangkok Patana School, The British International School in Thailand

The audience was enthralled by the fantasy world of Alice in Wonderland, this year's Primary Production.

"Congratulations to all who did such a wonderful job."

ArtReach's Alice in Wonderland - Bangkok Patana School

This year's Primary Production was Alice in Wonderland, a play by Kathryn Schultz Miller, and was performed by a fabulous cast over two shows in the Black Box Theatre. Starring students from Years 5 and 6, the show told the well-known story written in 1865 by English author Lewis Carroll, of Alice falling down the rabbit hole into a peculiar fantasy world. Wonderful acting enraptured the audience as Alice attended the 'Mad Hatter's Tea Party' and met characters including the White Rabbit, Cheshire Cat and the Queen of Hearts.

Congratulations to all the student performers and behind the scenes crew who did such a wonderful job.

The LaGrange Daily News: LTA performing The Jungle Book
By FROM STAFF REPORTS

An adaptation of Rudyard Kipling's classic, The Jungle Book, opened Thursday with the first of four sold out performances at LSPA. The production features a cast of 35 Lafayette Theatre Academy students, with an additional 11 students performing introductory scenes.

Set in the jungle of India, this play tells the story of Mowgli, a boy raised by wolves, educated by a panther, entertained by a bear, and challenged by monkeys, a python, and a dangerous tiger.

"Cast of second through sixth graders take the stage with poise and confidence."

The Lafayette Theatre Academy is currently putting on a production of "The Jungle Book". -Contributed

"Kathryn Schultz Miller, the playwright for this adaptation, makes it very clear that this production is also about community," director Carol Cain said. "We have been encouraged to think of how each animal and each character in the play is important and what each contributes to the community, a lesson that is important on the stage, in the classroom, and in life."

Cain said she and her student actors are inspired by the law of the jungle which is often quoted in the play.

"For the strength of the pack is the wolf, and the strength of the wolf is the pack," Cain said.

A family friendly production, one of the special treats of the play is audience participation.

"Many of the entrances and exits of our animal and human characters are made through the audience," Cain said. "Some of the characters will interact with audience members and ask for their help throughout the show. We're even asking audience members to make a few animal noises."

As you might expect in a play about the jungle, there are plenty of animals. In addition to the familiar characters of Shere Khan, the tiger, Baloo, the bear, Kaa, the python, and Bagheera the panther, there is a jungle full of snakes, monkeys, birds, elephants, and other large creatures.

"Janet Powell, our costumer, has created elaborate turbans and headpieces for our actors, as well as wonderful, kid-friendly costumes that give each animal personality," Cain said. "Plus, the LSPA staff has converted the entire Black Box theater into a jungle."

"The biggest treat, however, is watching this cast of second through sixth graders take the stage with such poise and confidence," Cain said. "They have taken the information we give them in our Creative Dramatics classes and transferred it to their performances. As an instructor, that's what you want to happen, and they make it happen so beautifully in this production. Can you tell how proud I am of them?"

Adding to the fun of each performance will be the presentation of other Rudyard Kipling stories acted out by students from two other Lafayette Theatre Academy programs. Acting Out is the newest and youngest academy class for Pre-K through first graders. Dramatically Unique is an all-inclusive class which provides a transitional curriculum for exceptional students with different abilities and limited theatrical experience. Each of these classes will be presenting a scene from Kipling's "Just So Stories."

"This production is also about community."

The Lafayette Theatre Academy - ArtReach's The Jungle Book

"Experience on stage is a vital part of any theatre education, and these brief scenes are the perfect way for our Acting Out and Dramatically Unique students to perform in front of an audience without having the pressure involved in a full-production," said Amy McDow, director of the Lafayette Theatre Academy. "We are so proud of each student in the academy and are thrilled to see many of them take the stage for the first time in this engaging production."

"Can you tell how proud I am of them?"

The Lafayette Theatre Academy - ArtReach's The Jungle Book

The Jungle Book is presented by Kid's Zone Dentistry and additionally sponsored by All Pro Auto Group and Eastern Industries. The Lafayette Theatre Academy is a part of the Lafayette Society for Performing Arts, located in downtown LaGrange. Performances of The Jungle Book are held in the LTC Black Box Theatre in their picnic theatre setting.

BWW Review: THE WIZARD OF OZ at The Producer's Club
By Donna Marie-Nowak, BroadwayWorld.com

Tucked away in the heart of New York City's theater district - known as Broadway (although only those with 500 seats or more can officially be called Broadway theaters) -- are many off- and off-off-Broadway gems like the Producer's Club which make theater accessible and affordable to thespians and audiences alike.

At the Producer's Club on July 28, 2018, AlphaNYC Theater Company presented the beloved children's classic The Wizard of Oz. It tells the indelible tale of farm girl Dorothy Gale and her dog Toto who travel to Oz via tornado. The show is directed by Elizabeth Aquino and the story is adapted by award-winning playwright Kathryn Schultz Miller. Based on L. Frank Baum's popular book, The Wonderful Wizard of Oz (1900), which spawned 13 sequels, MGM's 1939 film The Wizard of Oz became one of the greatest and most iconic films of all time, an enduring part of our cultural history. Its sublime star Judy Garland, forever associated with it, remains equally an icon. With its simple but profound theme of longing for faraway worlds "over the rainbow" and finding that those searches for our heart's desire ultimately lead home, The Wizard of Oz is a universal and timeless story.
ArtReach's Wizard of Oz Off-Broadway Production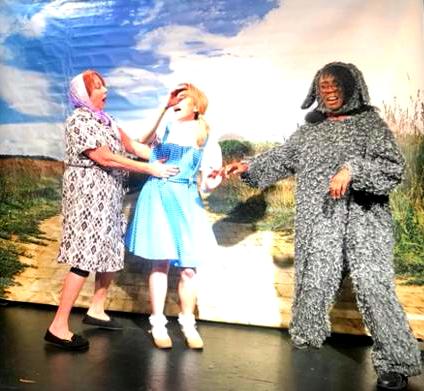 "Each actor brings something distinctive and original to her role,
aided by the script's engaging, child-friendly wit."
The simple backdrop depicts cornfields and a yellow brick road, including emerald green curtains. Perhaps one interpretation of the tale's subtext would be about surviving through imagination and dreams. It reminds us that even in Oz, Dorothy travels through farmlands similar to her native Kansas, except they are suffused with color. (The book opens, in fact, with describing the gray and joyless plains that Dorothy inhabits, noting that Toto was not gray and made Dorothy laugh, saving her from becoming as gray as her surroundings.) But on a literal level, the friendly and fanciful characters and spunky "child" heroine speak for themselves.

The story is condensed into an economical 30 minutes to engage young audiences. Schultz Miller makes some imaginative tweaks, while maintaining all the signature elements of the plot (including famous lines from the film). It is an all-female cast with each actor bringing something distinctive and original to her role, aided by the script's engaging, child-friendly wit.

Throughout the show narrator Veronica Murphy is perched in a corner of the stage and holding a book, lending an apt story-time atmosphere. Kansas farm girl Dorothy Gale and her dog Toto are whisked away to the Land of Oz by a tornado where they meet a Scarecrow (without a brain), a Lion (without courage) and a Tinman or, rather, Tinwoman (without a heart).

The trio of misfits join Dorothy in her journey down the yellow brick road to the Emerald City where they each hope the Great Wizard of Oz will give them the qualities they lack. In Dorothy's case, she wants to go home. But when they finally reach Oz, the Wizard tells them they must kill the Wicked Witch of the West first before their wishes are granted.

Hannah Rahe Goodman as Dorothy gets her spirit - a combination of sweetness ("I, the meek") and sass when pushed. When the Wizard boasts, "I remember everything because I am so great and wise," Dorothy says, "You've already told us that. It's not polite to repeat yourself." Karen Goldfarb, with great comedic presence, plays four different characters, including Auntie Em and one of the Wicked Witch's monkeys. She uses a broad and lively delivery that is perfect for children and makes the adults laugh as well.

Jayla P. Corbin delights as Toto and truly brings to mind an inquisitive, little dog; it is Toto, not the humans, who unmask the Wizard, after all. The dog remains a vital character, making frequent, little "ruff ruffs!" When she meets the Scarecrow, she paws him curiously until the Scarecrow cries, "Seriously?" She also nabs a bag of potato chips an audience member allegedly left behind.

Sarah Middough, playing both Glinda, the Good Witch, and the Wicked Witch of the West, is utterly sensational. Schulz Miller has reimagined the Wicked Witch as one-eyed, which makes a wonderful visual like a squinting pirate, and Middough uses great physical flourish and vocals deliciously recalling Margaret Hamilton's unforgettable film witch. ("They don't call me wicked for nothing," she pipes at one point.)

The cast is rounded out by Ambrealys as the Scarecrow, Catherine E. Seraceno as the Cowardly Lion, Stacy DeGolier as the Tinwoman and Niki Rose Woods as both the Gatekeeper and the Wizard. They are all delightful and play beautifully to the kids in the audience, being both engaging and relatable.

At the end of the show, children in the audience are invited to come onstage and take photos with their favorite characters. One little girl didn't want to leave the stage.

AlphaNYC's Wizard of Oz offers a little bit of magic on a shoestring and a way to introduce children to beloved classics. It also enables families to go to the theater without breaking the bank. Best of all, it's fun for all ages and frequently made me laugh out loud. (When the Scarecrow finally gets her brain, she crows, "I before E except after C" to prove it.)

THE WIZARD OF OZ played at the Producer's Club on July 28, 2018 at 10am, 11am, 12pm and 1pm. The Producer's Club is located at 358 West 44th Street in New York City.
---
Applebox theater presents 'Jungle Book'
By Audrey Caro, Polk County Itemizer-Observer

MONMOUTH — The themes of community and family that run through The Jungle Book also are apparent in The Apple Box Children's Theater production of the Rudyard Kipling classic.

The theater collaborated with several other entities, including Arts Integrated Ministry, Children's Educational Theater and Central High School's performing arts department, said Rob Harriman.

"It's really cool. I'm really enjoying it."

Rob Harriman coaches the cast of The Jungle Book before rehearsal

Most of the masks used in the play are from Central High School, he said, and Apple Box has lent costumes to CHS for other productions. Western Oregon University is taking care of the sound.

"It's a reminder that for as small of (an area) as this is, there is a huge pool of people invested in doing this," Harriman said. "There are four solid kids' theater programs (in the area)."

Harriman is directing the play and Barbara Harriman, his wife, is the production manager. Rob read through the book with their daughter Fiona and she added some scenes, he said.

Kathryn Schultz Miller adapted the book.

"The author of the play said do whatever you want with it," Harriman said. "We recalibrated the play to make it fit into our vision of the author's vision."

Harriman said he enjoys the theme of community and working together that is implied throughout The Jungle Book.

The story follows the journey of Mowgli, a boy who was raised by a family of wolves since his birth, but must flee his home for safety from Shere Khan, the tiger.

"The biggest challenge will be breaking away from the Disney version of the story," Harriman said.

The Apple Box Children's Theater production of The Jungle Book is "truer to the source material," he said.

They reinserted the poems that are at the beginning of each chapter in Kipling's book.

In its eighth season, the theater group is experiencing some firsts with The Jungle Book production — it's the largest cast, at 51, and it is the first production that features choreography.

Children from The Dance & Fitness Studio were in last year's play and were asked to be involved this year, Harriman said.

"That's how we got so many kids," he said.

There are four dance numbers, choreographed by Janey Jefferson and Bethany Allen, the dance studio.

"In auditions, we asked if they wanted to dance," Harriman said. "A lot of the kids were really excited about dancing."

"The story follows the journey of Mowgli."

The cast of The Jungle Book rehearses a scene at Western Oregon University.

The casts for Apple Box Theater productions are 8 to 14 years old. Veteran participant Haley Taylor, 16, passed the age limit to act in the plays, so she is taking on the role of assistant manager/stage director.

"It's fun to see from new perspective," Taylor said. "It's really cool. I'm really enjoying it."

(Photos by Audrey Caro)
---
PCC play 'Cranes' is all about hope
By Nicky Hamila For the Arizona Daily Star

Betsy Kruse Craig has the ultimate teaching tool: Theater.

Craig has been instrumental in bringing theater for children to the Pima Community College stage.

Based on a true story, it's about a young girl named Sadako Sasaki who lived in Hiroshima. She was 2 when the atom bomb was dropped on the city, and 12 when she was diagnosed with leukemia from the radiation.

"Kids have a voice that is powerful."

Pima Community College, AZ

It touches on culture, war, self-empowerment, empathy. And that's just for starters.

Japanese legend holds that if a sick person folds a thousand cranes, the gods will make the person healthy again.

Sadako starts folding cranes in hopes she will recover. It's a task she can't complete — she lives long enough to fold 644 cranes. Her classmates fold the rest and bury them with her.

"She is the icon for hope and peace," Craig said. "I think it's important for kids to understand that they have a voice and that their voice is powerful."

The play also teaches about war and its ravages.

"There have been children throughout history that have had to go through war," Craig said. "I think it's important for kids to know how other children have lived in countries of war. . . . For a piece like this, it teaches you about culture and history and sympathy and empathy."

And that makes "A Thousand Cranes" a play of a different sort.

"It's less of a play," said Craig, "and more of an epic poem."

PREVIEW
"A Thousand Cranes"
• Presented by: Pima Community College Theatre Arts.
• By: Kathryn Schultz Miller.
• Director: Betsy Kruse Craig.
• When: 7 p.m. Fri and Sat; 2 p.m. Sat and Sun through Oct. 5.
• Tickets: $6.
• Information: 206-6986.
• Running time: 60 minutes, with no intermission.
---
Mulan play entertains area children
Panola College Theatre Department presented "The Legend of Mulan"

The Panola College Theatre Department will present "The Legend of Mulan – A Children's Play" at 10 a.m., Friday, May 3, and at 2:30 p.m., Saturday, May 4, in the Q.M. Martin Auditorium. Both performances are free and open to the public.

"'The Legend of Mulan' is an interactive play for children of all ages," said Karen King, theatre director. "This play is our annual children's event for area schools. We have invited several area schools to bring their students to the play."

The 1998 Disney movie is now considered a classic, but the story of Mulan is adapted from ancient Chinese legend about a young girl who takes her father's place in battle. She becomes a warrior-heroine and her story is a cultural icon for the Chinese people.

The Legend of Mulan is an exciting play about the tale of the heroic Mulan, a woman living in Northern Wei Dynasty China, who has snuck into the army to save China so that her wounded father will not have to fight again against the barbaric Huns. Mulan takes her father's sword and rises to the challenge to fight in the Chinese Army.

"The audience was invited to hold their swords high, shout, stomp and clap."

The Panola College Theatre Department, TX - ArtReach's The Legend of Mulan

Panola College Theatre Department presented "The Legend of Mulan" on Friday and Saturday, May 3-4, in the Q.M. Martin Auditorium. Designed for children's theatre, the play invites the audience to interact with the cast. Theatre students handed out play swords and, on cue, the audience was invited to hold their swords high, shout, stomp and clap.

Set in ancient China, "The Legend of Mulan," involves the audience in assisting Mulan in her efforts to defeat the Huns.

Cast members included Peyton Proffitt, Justin Gonzales, Tony Jeter, Jasmine Ryan, Abby Parrish, Sarah Owens, Christian Kotara, Keath Kibbey, Bethany Crowe, Lacie Sepulvado, Angel Kammer, Addie Pope, Tailer Chong and Shelby Watson.

Crew members included Maria Mejai, Kyree Williams, Katy Chance, Bethany Crow, Catalina Zoyquilla, Hannah Williams and Jesse Williams.

The play was directed by Karen King, professor of theatre, and Kyree Williams, student director. The play was presented with special permission from ArtReach Children's Theatre Plays.

Photos by Katy Chance.
---
'The Wizard of Oz' by Middlebury Elementary School
"One hundred sixty students took part in their first theatrical experience; one played the Wizard of Oz."

"A heart is not judged by how much you love, but by how much you are loved by others." - Wizard in 'The Wizard of Oz'

Middlebury, CT - One hundred sixty students that attend Middlebury Elementary School are clearly loved a lot by others. With great joy, they presented a lovely production of 'The Wizard of Oz' on the stage of Memorial Middle School on Thursday evening with the help of many parents and staff members of their school. Only one performance remains on Friday evening at 7pm and admission is one item for the Middlebury Food Bank.

Director MaryLou Torre, the interim principal of Middlebury Elementary School, understands the importance of theatre in our schools. "The project was all about process. The rehearsals and practices were as much as a part of the experience as the performance you will see tonight. Fun and freedom of expression for the students and the directors were key goals along this journey."

This version of the classic book by L. Frank Baum is a play adapted by Kathryn Schultz Miller. It included a huge chorus of "vivacious" students in a rainbow of t-shirts that narrated the story with choral reading from the bleachers house left. The cast included six different girls in the role of Dorothy, four different Scarecrows, two Tin Man characters, two Lions, two Gatekeepers and many, many others. Everyone had their own wonderful costume; kudos to Amy Raefski on her adorable design work and to the large costume crew.

Corinna Flanagan and Kathy Miller served as the Art Director/Set Design team. The panels of the set were painted by a large group of students (shout out to Nick Salvucci) that got to wear cool painted t-shirts on opening night. Michael Kaulins served as AD and Lydia McCarthy did the choreography. Chris Turecek was the Music Director/Tech Director. Community theatre actor/dad Ian Diedrich did the prop construction, including the head of the wizard painted on a white curtain; shout out to Kalman Zold who played Oz. Michaela Turecek did the pretty impressive make-up for the actors that needed an unnatural face color. I had a great reserved seat in the front row, but the sound with microphones on stands was really very good throughout the gym.

A bunch of young male actors was the pretty adorable Flying Monkeys with Luke Humphrey as Chimp, Emma Taglialatella as Scamp and Kyleigh Favale as Rascal. Eva Guerrera rocked the role of the "they don't call me wicked for nothing" Witch and melted impressively. Addison Mitchell and Owen Lattanzio did well with the shared role of the Gatekeepers. Ryan Dawes and Madison Ferguson were both good Lions and Cole Hughes and Luke Jackson in full silver were effective Tin Man, I mean Men. Scarecrows were Matteo DelBuono, Caitlin Flaherty, Peter Skabardonis, and Kiera Daweese.

Glinda in the classic pink dress and crown was played well by Rachel Anderson, accompanied by bubbles. Featured Munchkins included Ryan Murray (Joe,) Emily Raefski (Curly,) and Hunter Diedrich returned to the stage to play Burly. Leah Wasserstein was Auntie Em and Jack Sedensky was Uncle Henry. Joey Bernardi barked well in the role of Toto because there was no stuffed dog in a basket in this play. The poppy scene gave new meaning to "pulling my leg" in a cute way.

The gaggle of girls in the blue and white gingham included Emma Kulla, Faith Graziano, Lauren Anderson, Grace Jackson, Elizabeth Raefski and Aubrey Guiditta. The most adorable Munchkins specialized in stealing hearts in their floral hats and technicolor outfits. Best featured ensemble was billed as "The Forest" and included Brailee Batista, Evan Deschaine, Lilyana Reed and Shaelyn Walsh as the apple-throwing trees with lots of attitude.

The curtain closed between the scenes and if the transitions were a bit long, what the audience saw when they reopened was worth the wait. The students could never be heard backstage and that can be hard for the very young. The director shared during her curtain speech that the young thespians, some as young as six, had been practicing since January, during which time their "little school play" grew into a full 55-minute production. The students all knew their lines and if they hadn't expected to perform in front of people sitting in the 600 seats, it did not show.

Thank you to this elementary school staff for giving most of these young performers their first theatrical experience in a safe setting. Congratulations on a job well done.

Downers Grove South hosts "Kid Frankenstein" play
Author Ryan Ostry, Bugle Reporter
Bugle Newspapers, IL, 2019

The production "Kid Frankenstein" was officially brought to life at Downers Grove South High School Friday night, exciting many young viewers and their families.

In contrary to the original Frankenstein story that is meant for a more experienced crowd, South put on this performance by getting the audience involved, primarily the kids.

Dances, running around the auditorium, jokes, puns and more exciting connections between the performers and audience took place, which Director Justin Matkovich said, it was all just part of the plan.

"The thing about children's theatre specifically is that the extra cast member is the audience," Matkovich said. "A lot of these children productions need to have that extra interaction with them because they performed today for kindergarteners through six graders, most kids that age wont follow the plot of a Shakespeare drama."

The scientists were played by Carson Aldrich, Sam Selakovich and Janella Guzman, while the Monster was played by Max Fido, and the "adult" Frankenstein was played by Jacob Gierhahn.

The central premise behind this novel, which was written in 1818, is a story of Victor Frankenstein, a young scientist who creates a hideous, sapient creature in an unorthodox scientific experiment.

"Being kind to each other is what this story was about."

ArtReach's Kid Frankenstein at Downers Grove South School, Plainfield IL


Frankenstein is infused with elements of the Gothic novel and the Romantic Movement.

At the same time, it is an early example of science fiction, which in contrast to previous stories with fantastical elements resembling those of later science fiction, the central character "makes a deliberate decision" and "turns to modern experiments in the laboratory" to achieve fantastic results.

Since the novel's publication, the name "Frankenstein" has often been used to refer to the monster itself. In the novel, Frankenstein's creation is identified by words such as "creature", "monster", "wretch", "abortion", "fiend" and "it".

"Entertaining other people by getting that emotion out of them whether that is them laughing or crying is my job," Fido said. "The childish jokes, interacting with the audience and the camaraderie all of us have performing in a show like this is what makes it worth it."

Frankenstein is portrayed at the beginning of the show as he has been for over a century as a eccentric, gargantuan freakishly hideous monster, but at the end of the play at the much built up science fair, everyone learns he just wants to be loved. Fido and Matkovich both said this is a children's play and it is meant for humor, but there is certainly a moral human element that they both wanted the crowd to take away from the performance.

"I can relate to Frankenstein and the play a little bit because when a was a freshman coming into high school, I'm sure like most people, feel a little weird or even like a outcast and you don't really understand how to meet friends," Fido said. "Just like in the play, Frankenstein wasn't sure how to relate to people so no one understood him."

"It's essentially the idea of friendship and not being kind to each other is the ultimate moral of what this story was about," Matkovich said. "Keeping friendship, keeping people around you and not pushing people away is the most important thing to remember about this play."
News & Reviews: < Prev | 1 | 2 | 3 | 4 | 5 | 6 | 7 | 8 | Next >
All Free Resources