Read Free Script Sample, Cast List, Staging Notes. Hear CD Soundtrack Cues
---

"We Are The Dream touched this community like no other event I've been part of. UNBELIEVABLE!"
Marianne Carruth, Tryon Fine Arts Center, NC
---

"What a great compilation of music!"
Kennelyn Ceralde
Sacramento CA
---

ArtReach's musical children's play, We Are The Dream weaves soulful spirituals, gospel music, turbulent history and meaningful audience participation into an event of powerful emotional impact.
---

Familiar Music & Songs:
"What a Morning"
"Nobody Knows"
"Oh, Happy Day"
"Black and White Together"
"Walk Hand in Hand"
"We Shall
Overcome"
---

Songs may be sung by a choir, students and audience, lending great spiritual depth to this American story of hope, courage and triumph.
---

"I have a dream that my four children will one day live in a nation where they will not be judged by the color of their skin but by the content of their character."
---
We Are The Dream
---

Includes the Inspiring Stories of: Rosa Parks, Vivian Jones, and other Courageous Pioneers of the American Civil Rights Movement.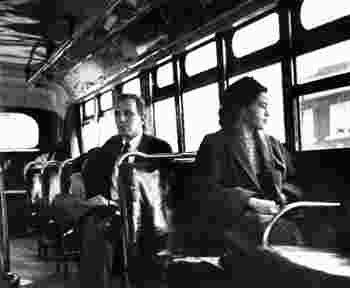 ---

"Many people tell me that "We Are the Dream" is the best play they've ever seen at their school. I had as few as 16 students in one production, and as many as 42 in another. It's a great show. Thank you!"
Brady McKay Williams, Drama Teacher, Sacramento
---

"Our Production of We Are the Dream was quite successful. The editor of the Arts section of the Providence Journal gave it a "Best Bets"!
All Children's Theatre, Pawtucket RI
---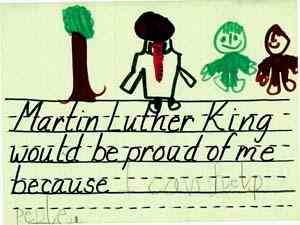 "Martin would be proud of me..."
---

This ArtReach School Play, offers positive examples for all children! Especially powerful in churches when performers of all ages join the cast and perform together.
---

"We are the Dream also featured the story of Rosa Parks, the seamstress who refused to give up her seat on a bus to a white man."
Hackney Gazette, London
---

Easy costumes and scenery: Many suggestions on how to create or find what you need to make a great looking production without breaking your budget!
---

"I recently purchased the We Are the Dream Play Package. You are a genius and a Godsend to a company like ours! Thanks so much for your brilliant work!"
Jerry Stevenson, Artistic Director, Columbia Children's Theatre, SC
---

We Are the Dream is a Perfect Play for Martin Luther King Day and Black History Month!
---
We Are The Dream
The Legacy of Martin Luther King, Jr.
Musical School Play for Schools, Theatres and Churches!
ADDITIONAL INFORMATION
Cast List
Staging Notes
CD Soundtrack Cues
Script Sample
---
WE ARE THE DREAM
CAST LIST
Running Time: About 45-50 minutes
Flexible cast of about 25, 6 Male, 5 Female, All others M/F
Easily adapted for larger or smaller cast
STUDENTS:
TONY (M/F, 13 lines)
FLORA (M/F, 14 lines)
JAMES (M/F, 12 lines)
HOPE (M/F, 13 lines)
GRACE (M/F, 13 lines)
GROWNUP JULIA (M/F, 17 lines)
YOUNG JULIA (M/F, 13 lines)
JULIA'S MOTHER (F, 9 lines)
JULIA'S FATHER (M, 15 lines)
YOUNG MARTIN (M, 11 lines)
ALBERTA (F, 8 lines)
MARTIN'S FATHER (M, 6 lines)
MARTIN (M, 37 lines)
MRS. WILLIAMS (M/F, 29 lines)
BILLY'S MOTHER (M/F, 2 lines)
SHOE CLERK (M/F, 2 lines)
CORETTA (F, 16 lines)
ROSA PARKS (F, 5 lines)
TV ANNOUNCER (M/F, 18 lines)
BUS DRIVER (M/F, 8 lines)
SHERIFF (M/F, 11 lines)
JOSEPH MCNEILL (M, 4 lines)
WAITER (M/F, 8 lines)
WALLACE (M, 6 lines)
VIVIAN JONES (F, 8 lines)
CHOIR (Optional, any size)
---

Let Your Kids Live the Dream!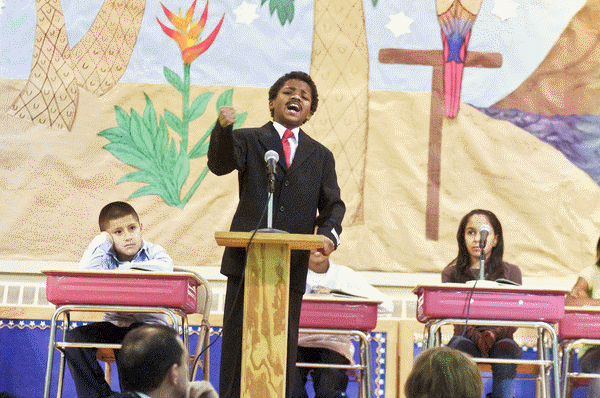 A Student Performs MLK's Dream Speech!
Charteret School, Bloomfield, NJ
---

Written especially for young people to perform.
While you may find large cast plays from other publishers, most of those were originally written for adults or professional actors to perform. They often contain difficult dialogue, unfamiliar or complex language, and speeches too long for young children to memorize. They may even contain jokes, innuendos and subject matter that may not be appropriate for children.

Easy to understand and memorize.
Dialogue is simple, fresh, quick and humorous, keeping the action flowing without stops and starts between scenes. This keeps young people and young audiences engaged throughout the performance - no awkward pauses, no dead-time, no wiggles!

Everyone participates!
All children are involved throughout the performance. This builds confidence, promotes team spirit and eliminates rehearsal rowdiness. The audience is often asked to join in the fun, and action often spills into the aisles! All of our SCHOOL PLAYS give suggestions on how to divide up large parts (such as Snow White or Cinderella) among several performers so that no one child is the "star".

Feel free to edit! Go ahead and tape it!
Most publishers insist that no changes may be made to their scripts. We know that your goal is to engage every child in the most meaningful way and that your needs are unique. Cut, eliminate, re-assign lines, or add as much as you like! Also, there are no restrictions on video tapes. Parents want a tape or DVD to remember their child's big moment. Go ahead and tape away!

---
| | |
| --- | --- |
| | Kathryn Schultz Miller is one the most prolific and most produced playwrights for children. Her script, A THOUSAND CRANES, won the National Endowment for the Arts Playwright Award (and countless others) at a time when plays for children were not considered serious works. Now, many of her published scripts are considered classics for young audiences. When teachers voiced their need for great plays that kids can perform Ms. Miller responded with ArtReach's School Plays: "I never dreamed I'd write for anyone other than professionals. But writing for child performers has been the most profound and rewarding experience of my life". |
---

CASTING: This script is written for adults and children of varying ages to perform together. Older children and adults may take the parts of Grownup Julia, Mrs. Williams, Martin's Father, etc. An obvious choice would be for the teacher who is directing the play to perform Grownup Julia or Mrs. Williams. The purpose is to deepen the experience of recounting Martin Luther King's life among a wide and diverse group, a true community, helping all to see it from many points of view. However, it is quite all right for all the roles to be played by young people of just one age if that is the nature of your project.

CHOIR: Using an existing choir, such as a church choir or a school singing group, will simplify this aspect of the production. The Choir may be as small as one person or as large as you can accommodate. The choir is the sole backdrop/scenery for the play placed upstage center with action taking place in front of them. Members can come and go from the Choir to perform in the play taking on the speaking roles as they are described in the script or playing non-speaking (or ad-libbed speaking) roles such as crowds at protests etc. When actors are not performing in the playing area they may step into the choir and sing through the scenes until it is time to resume their role again. If your choir is already practiced in songs you think are appropriate, by all means replace the suggested songs with those your choir members already know. If your audience is familiar with the songs feel free to encourage them to join in throughout the show. If a choir is too much for your project, a CD of background music and sound effects is available and the references to songs may be eliminated from the production.

We Are Martin Luther King's Dream!
Joshua Academy, We Are the Dream, Children's Musical Play, Evansville, IN

---

WE ARE THE DREAM
CD SOUNDTRACK CUES
Cues, sound effects, choir accompaniment music

The CD Soundtrack contains sound effects and music to accompany the choir (traditional spirituals and gospels) that may be used to greatly enhance the performance. Cues have 10 seconds of silence at the end - times shown below include silence.
[ Click on [sample] to hear a short sample of the indicated cues ]

NOTE: Cues marked CHOIR: contain music to accompany the choir. SKIP the CHOIR: cues if you are using a piano or live band playing for the choir. (Simple piano sheet music is included in the Teachers Guide.)
1. CHOIR: WHAT A MORNING (1:08) [sample]
2. CHOIR: NOBODY KNOWS (1:37) [sample]
3. CHOIR: NOBODY KNOWS 2 (1:37)
4. CHOIR: OH HAPPY DAY (1:56) [sample]
5. CHOIR: OH HAPPY DAY 2 (0:50)
6. CHOIR: WHAT A MORNING 2 (3:05)
7. EXPLOSION, BURNING CROSS (0:52) [sample]
8. CHOIR: QUIET HUM (0:37)
9. SINGING, CHAOS, SINGING (2:41) [sample]
10. POLICE, DOGS, MOB (0:33) [sample]
11. CHOIR: BLACK AND WHITE TOGETHER (1:52) [sample]
12. CHOIR: WALK HAND IN HAND (1:52)
13. CHOIR: SPEECH & FREE AT LAST MUSIC (2:55) [sample]
14. SPEECH ONLY (2:19)
(use either track 13 or 14 for this cue)
15. CHOIR: WE SHALL OVERCOME (Finale) (4:30) [sample]
CHOIR: Using an existing choir, such as a church choir or a school singing group, will simplify this aspect of the production. The Choir may be as small as one person or as large as you can accommodate. The choir is the sole backdrop/scenery for the play placed upstage center with action taking place in front of them. Members can come and go from the Choir to perform in the play taking on the speaking roles as they are described in the script or playing non-speaking (or ad-libbed speaking) roles such as crowds at protests etc.

Music & Sound Resources Available on the Internet
( Sheet Music, Song Books, CDs, DVDs, Sing-along, Karaoke, Sound Effects )
Internet Music Resources: Karaoke CDs & Sheet Music








Click to search Internet for karaoke cds or sheet music
---

"It's for all of us... We are the dream."

"This show is not about rehearsal, not about perfection. It's about faith and love and the message of Dr. King. This dream is for all of us. We are the dream."
Director Marianne Carruth, Tryon Fine Arts Center, NC


The School Play Package gives you the right to make any changes to the script that you like! Add characters, lines, songs! You also have the rights to make a Video/DVD of your special performance!

---
Young Martin has big plans but he knows he can't do it alone...
(Script pages 12-13)
CORETTA: I am Coretta Scott.

MARTIN: (Admiring.) Yes, you are.

CORETTA: Don't you know me by now, Martin? Yes, I am Alabama born and bred. But I have no intention of returning in this particular lifetime. Boston suits me fine. I'll have my music degree in a year and my masters in two! Give me one good reason why I should complicate my plans by marrying you.

MARTIN: Well, for one... because you love me.

CORETTA: How on earth could you know that?

MARTIN: Because I love you. And I can see you feel the same.

CORETTA: Has anyone ever told you you're proud?

MARTIN: Proud to be a man? Proud to be an African American? Proud to have a brilliant woman like you at my side? Guilty as charged.

CORETTA: Oh, Martin. I do love you but...

MARTIN: But?

CORETTA: I can't go back to the south. I just can't. I can never forget how I was treated down there. Like I wasn't as good as the white girls.

MARTIN: That's exactly why I got to back, Coretta. And why you got to go with me. Someone has to begin to lift our people up!

CORETTA: Oh, Martin you're a dreamer. Do you think you can do all that by preaching from a pulpit?

MARTIN: I can. I must.

CORETTA: If I say yes. If I marry you. I won't be marrying just a man. I'll have to marry your dream too.

MARTIN: I wouldn't ask you if I thought you couldn't do it. You'll be my partner, Coretta, by my side every step of the way.

CORETTA: And give up singing?

MARTIN: (Smiling.) There's always the choir.

(SOUND CUE #4: Choir, Oh Happy Day.)

CHOIR: (humming and clapping intro to song...)

CORETTA: The church choir? After all my classical training? (Rolling her eyes.) Oh, happy day!...

CHOIR: (Singing in direct response to CORETTA.)

Oh happy day... Oh happy day
Oh happy day... Oh happy day
When Jesus washed... When Jesus washed
Oh when He washed... When Jesus washed
When Jesus washed... When Jesus washed
He washed my sins away
Oh happy day... Oh happy day...

(Repeat "Happy Day" and/or lyrics as needed. CORETTA acknowledges the CHOIR with an "I can take a joke" look to them. She and MARTIN join the CHOIR and sing a phrase. END CUE.)

Note: This is a sample from the actual script. To review the entire play, order the PERUSAL SCRIPT (online instant download). Or to save 20% on the full production kit and royalty for one performance, order the SCHOOL PLAY PACKAGE (below) and start rehearsals today!



---
One payment for everything you need to perform the play at your school or organization. No need to purchase multiple scripts, no royalty quote, no separate royalty payment. Order the School Play Package and you're done -- start rehearsals immediately!

The SCHOOL PLAY PACKAGE Includes:
1. Master Script ($9.95)
2. Teachers Guide ($9.95)
3. CD Soundtrack ($29.95)
4. Performance License ($60.00)
(License: Rights to copy script, Royalty for one performance)
Get Everything ($109.85 value) - Only $99.95
( SAVE MORE $$$ WITH FULL DOWNLOAD - NO SHIPPING COSTS! )


---