ArtReach
Award-Winning Children's Plays, Christmas Plays, Christmas Musicals for Young Performers, Children, Halloween Plays, School Plays and Scripts for Large-Cast, Small-Cast Plays. ArtReach Shows for Young Audiences. One Act Plays, One Act Dramas, Comedies for Middle Schools and High Schools. Plays for Touring to Primary and Elementary Schools, Educational Outreach Theatre. ArtReach One Act Musicals for Children and Young People.
---

Winner of a National Endowment for the Arts Playwriting Award.
---
ArtReach has plays for Primary School Musicals, Elementary Schools and Middle Schools!
---

Winner of five Ohio Arts Council Playwriting Awards.
---
School Plays feature Classic Literature, Fairy Tales and Christmas Literature! All School Plays are written for Large Casts of Children, Kids and Young People!
---

Ohio Theatre Alliance Award: "Outstanding Contribution to Theatre"
---
Fun, Innovative School Plays are Easy Scripts for Children to Learn, Enjoy and Perform!
---

Post-Corbett Award for "literary excellence in Playwriting."
---
ArtReach offers and Musicals for Christmas, Schools, Community Theatres and Drama Groups!
---

Kathryn Schultz Miller's work has been Featured in Twenty Great Plays for Children, published by St. Martin's Press, Foreward Maurice Sendak
---

"Thank you for such a wonderful script. Our performance was SPECTACULAR! Thanks for your help in making it a magical evening for my kids."
Molly Callender, Langley Christian School
---

"The children were fabulous! We had so much fun! Thank you! Thank you!"
Rhonda Smith
Bayside School
Stevensville, MD
---
"We have performed your plays four times and I am never disappointed."
Jane Moores, 5th grade teacher, Crisafulli School, Westford, MAAA
---

"It was absolutely a wonderful experience from beginning The script was wonderful and easy to adapt so that everyone could participate!"
Donna Stafford
First Grade Teacher
Kinston, NC
---
ArtReach has Large Cast Musicals, Comedies and Dramas for Kids to Perform at School!
---

"Your scripts are well-paced, clear, and fun for all!"
Greg Tutt
Buford Elementary
Lennox, CA
---
School Plays feature Audience Participation and Easy Dialogue for Kids!
---

"My principal asked me if my students would perform it one more time!"
Allison Sands
Stevens Brook Elem
Bridgton ME
---

"We have performed 2 of your plays - both VERY successful!"
Heather Schmulian, Dramaworks, West Boca High School Performing Arts Theatre
---
ArtReach School Play Packages save you money! Master Scripts, Teachers Guides, Soundtrack CDs, Rights to Perform and Make Copies for Your Large Cast!
---

"Everyone was overwhelmed at how wonderful it turned out! Thank you!"
Brooke Iverson
Signal Mountain TN
---
Musicals and Scripts have Bright, funny comedy, great roles for every child and easy songs that appeal to kids!
---
C

"The students were great and you have a life long customer with our school. We are already getting ready for next school year's play. Thank you again for GREAT plays!!!"
Billy Foster
Balboa Primary Academy
Panama
---
Scripts include Lots of Helpful Tips for Beginning Play Directors! There are many ideas about how to make costumes and sets that won't break your budget!
---
"Our school has just finished our Alice in Wonderland production and it was fantastic. Thanks for such a fantastic script!"
Danni Mattiazzo, Larrakeyah Primary School, NT Australia
---

"I love your writing!"
David Motroni, CAT of Corona, CA
---

"Our Club includes 3rd through 5th graders. We love your scripts!"
Jennifer Sypert, Floyd Elementary, Mesquite, Texas
---

"Thanks for all the wonderful plays you do!"
Jennifer Stearns, Beaverbank Kinsac/Sackville Heights Elem, Nova Scotia
---

"Your scripts have been perfect for our students. Thank you for making affordable, engaging scripts that appeal to all students!"
Sarah Maggard, David T Wilson Elementary, Brandenburg, KY
---

"I have used your scripts for the last 5 years for my students with special needs. It is always a FABULOUS production!"
Chris Bloese, South Broward High School, Hollywood, FL
---
"We have had huge successes the past two years with Peter Pan and Beauty and the Beast...we love your shows!
Jan Plank, Director, Temple Beth Hillel Day School, Valley Village, CA
School Plays
Scripts for Kids to Perform!
Plays for Schools, Students, Teachers, Kids!
Children's Scripts and Plays! Large Cast School Plays! Musicals for Kids!
For Primary, Elementary and Middle Schools! Easy Christmas Musicals!
Kids Love ArtReach's School Plays!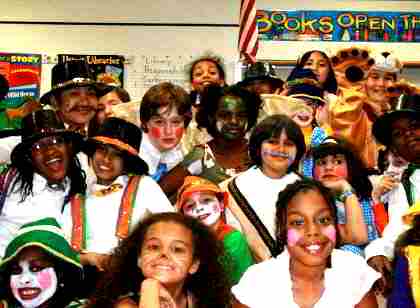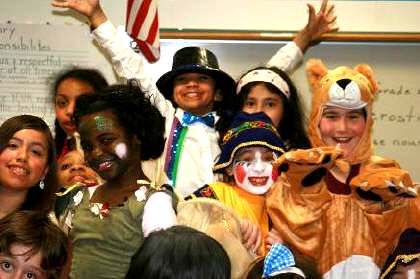 Alice E. Grady Elementary School, Pinocchio School Play Cast, Elmsford, NY

Brand New Musical Play from ArtReach!


TREASURE ISLAND: YOUNG PIRATES OF THE CARIBBEAN!

"We have done your school plays for the last 5 years. I love them! They are written so appropriately for the kids to both understand and memorize. Thank you for helping to instill a love of theatre at such an early age in our students!"
Karen Dietry, Teacher, Plain City Elementary School, OH


Easy for Kids to Learn, Perform and Enjoy!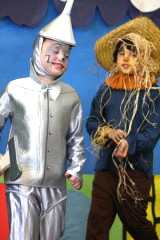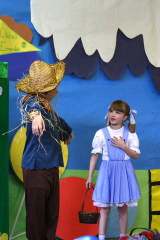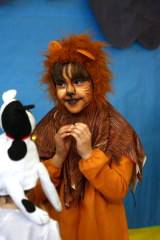 Wizard of Oz, Feltwell Primary School, London, UK
"Your scripts are simply THE BEST for kids!"
Sarah Ackerman-Hale, Broadway Review, Kansas City
Teachers, this is what you are looking for! Easy to Stage, Easy for Kids to Perform! Scripts written just for you and your students!
School Plays for Children to Perform!


ArtReach Award-Winning Children's Theatre Plays
Your #1 Source for Downloadable Children's Plays!

ArtReach's School Plays are written especially for elementary and primary school teachers to direct and large cast of students to perform. Dialogue is simple, fresh and easy to memorize. Every child participates throughout the entire performance and each Classic Children's Play or Musical Play features familiar storylines with upbeat endings! Full School Play Packages are available for immediate download!

Large Cast Scripts for Kids to Perform!
Ursuline Academy, New Orleans, Renee Barras Director, 2012

"We've done 2 of your children's school plays Wizard of Oz and Peter Pan! I can't tell you how much I appreciate what you do. We cast 1st through 5th grade kids in an inner-city school, all second language learners, and they loved it. Your School Plays are well-paced, clear, and fun for all."
Greg Tutt, Teacher, Buford Elementary, Lennox, CA

School Plays for Children to Perform!


A joyous, musical version of the popular Charles Dickens Christmas story with traditional Christmas carols, music and songs for cast and audience to sing-along! Flexible, large cast of about 33-38 children: 5 female, 6 male, 22-27 male/female; grades 1-6; about 45 minutes. Musical Play for Children to Perform.

Christmas Plays - Children's Christmas Plays, Children's Christmas Musicals

---

The Cinderella story for Christmas! This great new Christmas Musical Play comes complete with child-friendly dialogue and familiar Christmas carols the audience and performers can sing together. Flexible, large cast of about 30 children: 13 female, 5 male, about 12 male/female; grades 1-6; about 45-50 minutes. Musical Play for Children to Perform.

Christmas Plays - Children's Christmas Plays, Children's Christmas Musicals

---

Peter Pan for Christmas! This great Christmas Musical Play comes complete with child-friendly dialogue and familiar Christmas carols audience and performers can sing together. Flexible cast of about 35 children: 3 female, 1 male, about 31 male/female; grades 1-6; about 45-50 minutes. Musical Play for Children to Perform.

Christmas Plays - Children's Christmas Plays, Children's Christmas Musicals

---

A CHRISTMAS WIZARD OF OZ - Christmas Musical Play!

The Wizard of Oz for Christmas! This great Christmas Musical Play comes complete with child-friendly dialogue and familiar Christmas carols audience and performers can sing together. Flexible cast of about 34 children: 4 female, 5 male, about 25 male/female; grades 1-6; about 45-50 minutes. Musical Play for Children to Perform.

Christmas Plays - Children's Christmas Plays, Children's Christmas Musicals

---

Snow White becomes the perfect Christmas Story! Santa tells us that the Wicked Queen hates Christmas and is plotting against Snow White because she brings the lovely winter snow. Flexible, large cast of about 32 children: 2-3 female, 3 male, about 26 male/female; grades 1-6; about 45 minutes. Musical Play for Children to Perform.

Christmas Plays - Children's Christmas Plays, Children's Christmas Musicals

---

The true and poignant story of Sadako Sasaki and her quest to fold a thousand cranes. Thought-provoking and dramatic, even the youngest children can understand this play's deepest meanings. Flexible, large cast of about 17-38 children; about 20 male/female; grades 1-6; about 30-40 minutes. School Play for Children to Perform.

---

Easy dialogue and clever simple staging that involves all your students! - with loads of fun and great audience participation! Flexible, large cast of about 31 children: 3 female, 9 male, about 19 male/female; grades 1-6; about 45 minutes. School Play for Children to Perform.

---

This innovative children's playscript brings Lewis Carroll's beloved classic to life. Cleverly staged - there are FIVE Alices! - with loads of fun and great audience participation! Flexible, large cast of about 24 children: 5 female, 1 male, about 18 male/female; grades 1-6; about 40-45 minutes. School Play for Children to Perform.

---

A world of enchantment comes alive with your students in all the starring roles. Our popular children's play is true to the vision of Charles Perrault's classic story. Flexible, large cast of about 29 children: 7 female, 7 male, about 15 male/female; easily adapted for smaller/larger casts; grades 1-6; about 40-45 minutes. School Play for Children to Perform.

---

The timeless classic everyone loves - with all the wonderment of a Fairy Godmother, Prince Charming, a pumpkin that turns into a carriage! Flexible, large cast of about 24 children: 9 female, 5 male, about 10-12 male/female; easily adapted for smaller/larger casts; grades 1-6; about 30-40 minutes. School Play for Children to Perform.

---

Hilarious, fun-filled large cast children's play with audience participation, this is a joyous adaptation of Hans Christian Andersen's beloved tale. A children's play for young and old! Flexible, large cast of about 37 children: 4 female, 2 male, about 31 male/female; grades 1-6; about 40-45 minutes. School Play for Children to Perform.

---

Spine-tingling, hilarious Halloween play for children & families! Ideal for middle & jr. high students. Flexible, large cast of about 22: 8 female, 14 male; easily adapted for smaller/larger casts; grades 6-10; about 45 minutes. School Play for Middle / Jr. High Performers.

---

A faithful telling of the beloved Hans Christian Andersen story, simplified for a large cast of young performers. Lots of audience interaction, easy songs and a happy ending! Flexible, large cast of about 24-39 children: 10 female, 7 male, about 7-22 male/female; easily adapted for smaller/larger casts; grades 1-6; about 45 minutes. Musical Play, School Play for Children to Perform.

---

PETER PAN - Our Playscript Adaptation of the Timeless Story!

Fast paced and full of mischievous fun and audience participation, this is a heart-warming script adaptation of one of the world's most enduring and timeless stories. Flexible, large cast of about 30 children: 7 female, 4 male, about 19 male/female; grades 1-6; about 40-45 minutes. School Play for Children to Perform.

---

This innovative script adaptation of the beloved Italian story by Carlo Collodi brings the magic to life with lots of fun, humor, puppets, puppeteers, all your favorite characters and audience participation! Flexible, large cast of about 30 children: 3 female, 4 male, about 23 male/female; grades 1-6; about 45 minutes. School Play for Children to Perform.

---

A faithful telling of the Grimms' fairy tale, simplified for a large cast of young performers. Lots of audience interaction, easy songs and a happy ending! Flexible, large cast of about 40 children: 10 female, 8 male, all others male/female; easily adapted for smaller/larger casts; grades 1-6; about 45 minutes. School Musical Play for Children to Perform.

---

Full of magic and enchantment - the beloved story of the beautiful Princess, her wicked stepmother, Prince Charming, and those seven lovable Dwarfs. Flexible, large cast of about 30 children: 2-3 female, 2 male, about 24 male/female; easily adapted for smaller/larger casts; grades 1-6; about 30-40 minutes. School Play for Children to Perform.

---

TREASURE ISLAND - Our Playscript Adaptation of the Classic Story!

Fast paced and full of mischievous fun, adventure and pirate seafaring songs for the kids to sing! A heart-warming script adaptation of Robert Lewis Stevenson's classic story. Flexible, large cast of about 30 children: all male or female; grades 1-6; about 45 minutes. School Play for Children to Perform.

---

A fun-filled large cast Christmas musical based on Clement Moore's famous poem. Easy songs from familiar Christmas carols, lots of laughs, and audience participation! Flexible large cast of 30-45 children: 4 female, 5 male, 21-35 male/female; easily adapted for smaller/larger casts; grades 1-6; about 45 minutes. Musical Play, School Play for Children to Perform.

Christmas Plays - Children's Christmas Plays, Children's Christmas Musicals

---

This poignant musical children's play weaves soulful spirituals, gospels, turbulent history and meaningful audience participation into an event of emotional impact. Flexible, multicultural, multigenerational cast of about 25: 5 female, 6 male, about 14 male/female; grades 1-6, schools & churches; about 45-50 minutes. Musical Play, School Play for Children to Perform.

---

THE WIZARD OF OZ - Our Most Popular Children's School Play!
Also Available in a BILINGUAL (Spanish-English) Version!: El Mago de Oz

Enchantment abounds as Dorothy begins her wondrous journey to the Land of Oz! A faithful telling of the story you know so well, simplified for a large cast of young performers, and lots of fun for everyone! Flexible, large cast of about 25 children: 4 female, 5 male, about 16 male/female; grades 1-6; about 45-50 minutes. School Play for Children to Perform.

---

One payment for everything you need to perform these large cast children's School Plays at your school or organization. No need to purchase multiple scripts, no royalty quote, no separate royalty payment. Order the School Play Package and you're done -- start rehearsals immediately!

The SCHOOL PLAY PACKAGE Includes:
1. Master Script ($9.95)
2. Teachers Guide ($9.95)
3. CD Soundtrack ($29.95)
4. Performance License ($60.00)
(License: Rights to copy script, Royalty for one performance)
Get Everything ($109.85 value) - Only $99.95
( SAVE MORE $$$ WITH FULL DOWNLOAD - NO SHIPPING COSTS! )

---