ArtReach's popular one act play 'The Legend of Sleepy Hollow' is kid-friendly spookiness for Halloween! Your audiences will swoon at the ride of the Headless Horseman!


---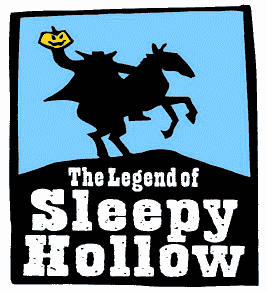 "The Legend of Sleepy Hollow has been very successful. Probably one of the most popular productions we ever had here in our Youth Theatre!"
Joe Lauderdale The Laguna Playhouse, CA
---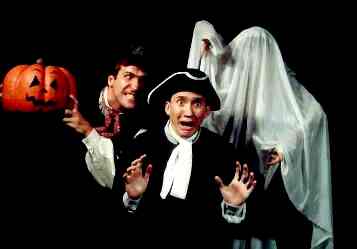 Producers, this fast-paced script follows the familiar story as you know it and Washington Irving wrote it.
---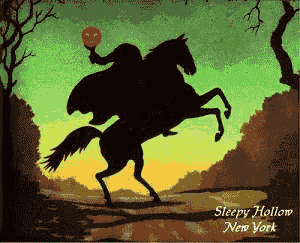 There are no unexpected story tangents, just the famous spine-tingler with lots of suspense and uproarious comedy!
---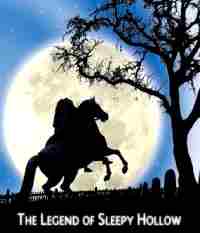 "A delightful show that packed the house. Enjoyed by children of all ages."
Sheila Freudenberger, Orange Curtain, San Juan Capistrano, CA
---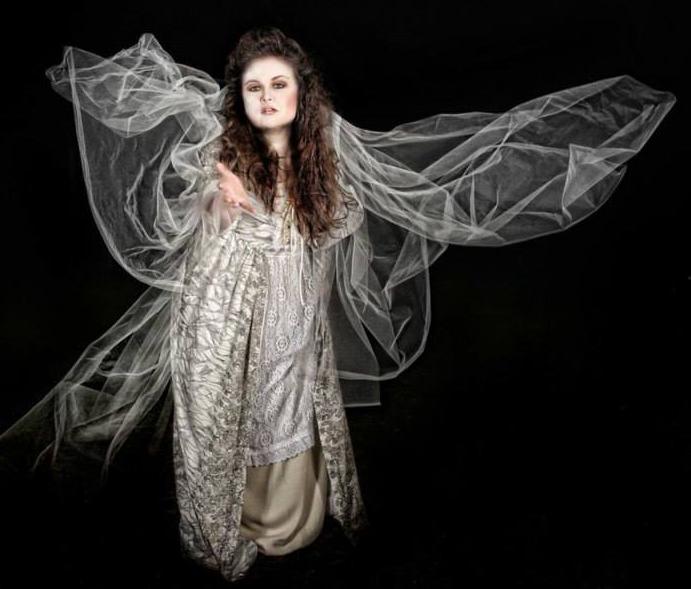 "We had to add three performances to accommodate all those schools who wanted to come. One parent told me it was their best field trip so far."
Becki Bradford, Chattanooga State Drama Club, Chattanooga, TN
---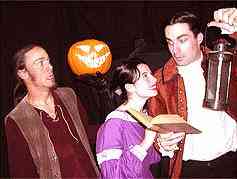 "Preschool through sixth grade students were in awe of Ichabod and Katrina. The characters' interaction with the audience brought Sleepy Hollow right into their hearts."
Hayes Elementary School
---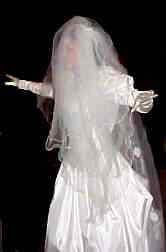 "Six out of six sold out performances in our 1300 seat theatre! The children loved the Headless Horseman!"
Paramount Arts Center, Ashland, KY
---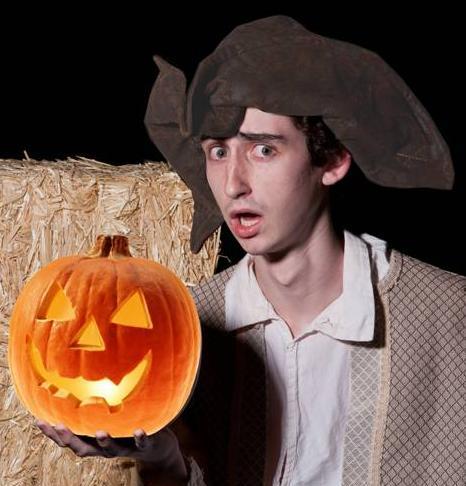 Can be performed by as few as 3 or more than 20, for touring or mainstage.
---


The script includes instructions on how to make an inexpensive headless horseman!
---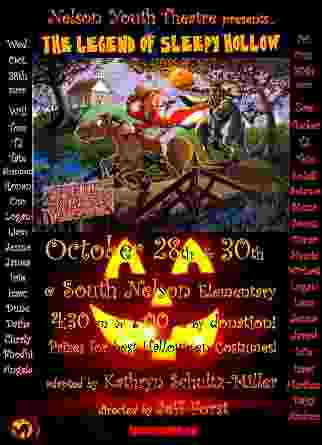 Great One Act Play For Middle Schools & Drama Clubs! High Schools and Community Theatre Productions! The script can be easily adapted for a larger cast!
---

Minimal props & tech keep your production clever & fast-paced!
---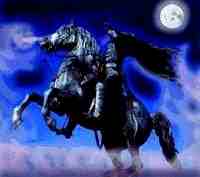 "Simple to stage and popular with audiences due to plenty of comedy!"
Rachel King, Spotlites Youth Theatre, Chatham, Kent, UK
---
Legend of Sleepy Hollow
One Act Halloween Play for Touring or Mainstage

Spooky Classic Script for Halloween!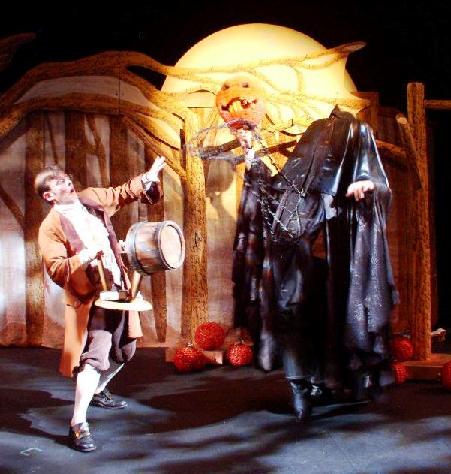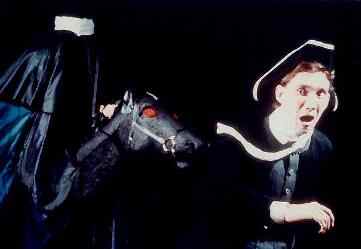 Lexington Children's Theatre, KY - ArtReach Touring Theatre, Cincinnati

The Legend of Sleepy Hollow, Washington Irving's spooky Halloween classic, is presented with all the thrills, chills and laughs that keep young audiences on the edge of their seats

"Thrills and Chills and Lots of Laughs!"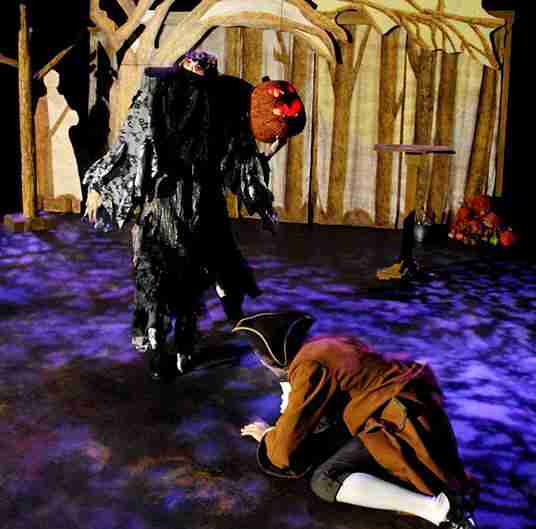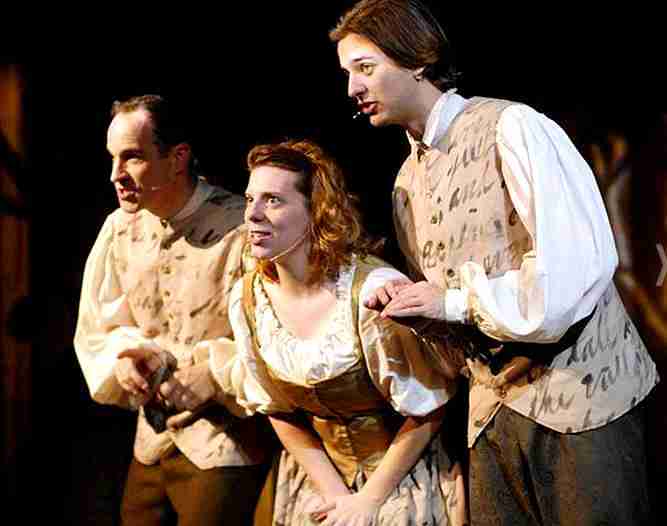 Lexington Children's Theatre, KY
A cast of three actors does it all! They tell Washington Irving's story - from Ichabod's courtship with Katrina to the inevitable frightening conclusion!
---

Courtship Rivalry! Hilarious Comedy!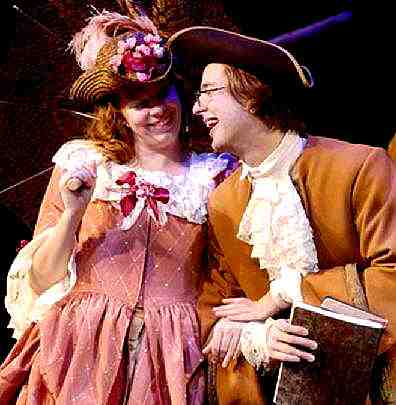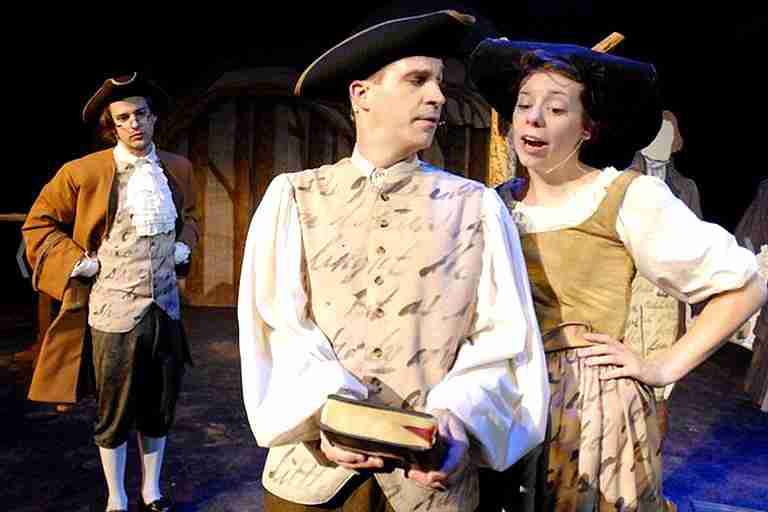 The storybook tale revolves around the famous characters--the bumbling, awkward school teacher, Ichabod Crane, the coquettish Katrina and Ichabod's brutish rival, Brom Bones.

Ichabod Falls for Katrina's Charms!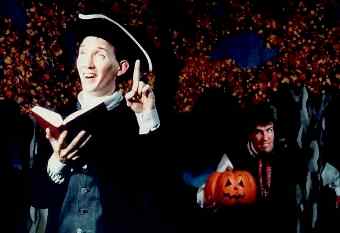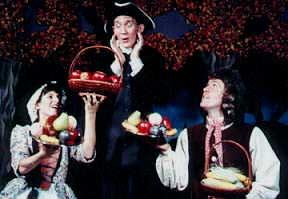 ArtReach Touring Theatre, Cincinnati
---

Brom Bones and Ichabod Compete for Katrina!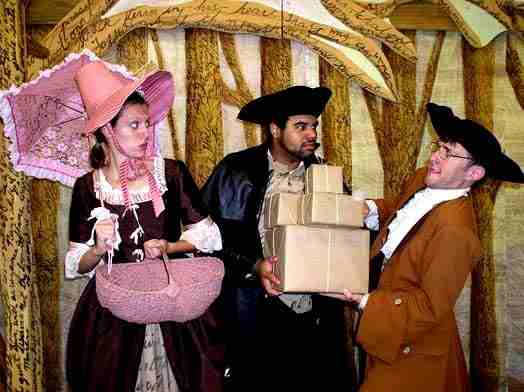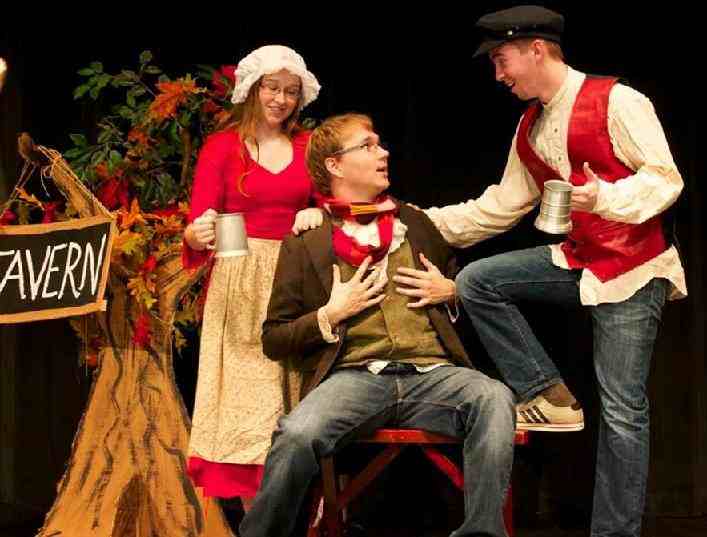 Lexington Children's Theatre, KY - Fresh Baked Theatre
"The script is quick and lively, taking the audience on a journey
through history that will leave them shaking in their seats!"
John Dolphin, Pine-Richland Middle School, Gibsonia, PA

Hilarious Script for Family Audiences!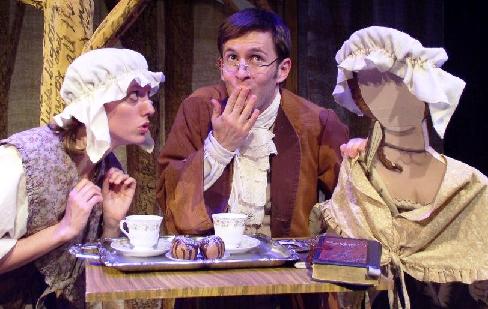 Ichabod charms the Ladies - Halloween Frolic
---

Clever Staging and Storytelling!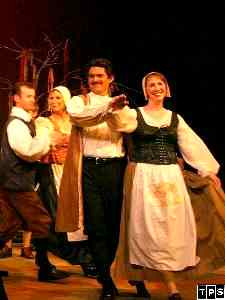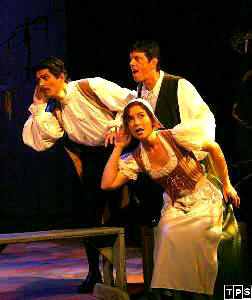 Edmonds Driftwood Players, Wade James Theatre, Edmonds, WA
"A huge success at our theatre with sell-out crowds! It was an easy extra on our season slate that may well become an annual Halloween tradition!"
Gregory Magyar, Artistic Director, Driftwood Players

Campfire Tales Set the Scary Scene!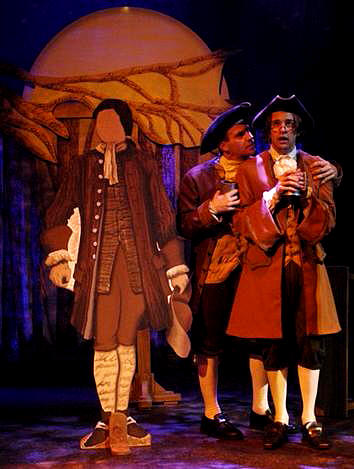 Lexington Children's Theatre's Fantastic Production!
---

Ichabod's Spooky Halloween Ride!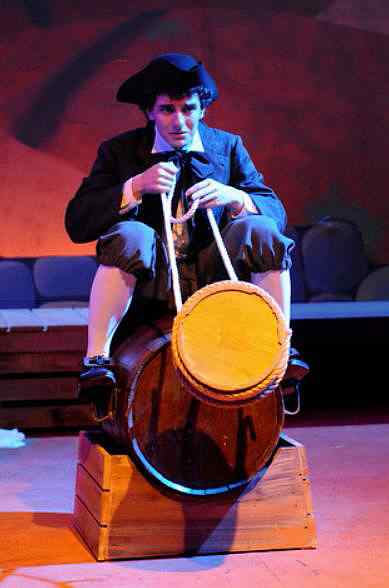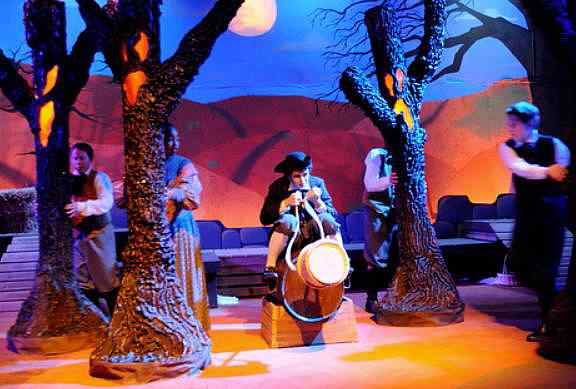 Topeka Civic Theatre and Academy, KS
"This adaptation, by Kathryn Schultz Miller, is both funny
and simple for a young audience to understand, an important
consideration, full of shivers and merriment."
The Orlando Sentinel

A Scary and Hilarious Ending!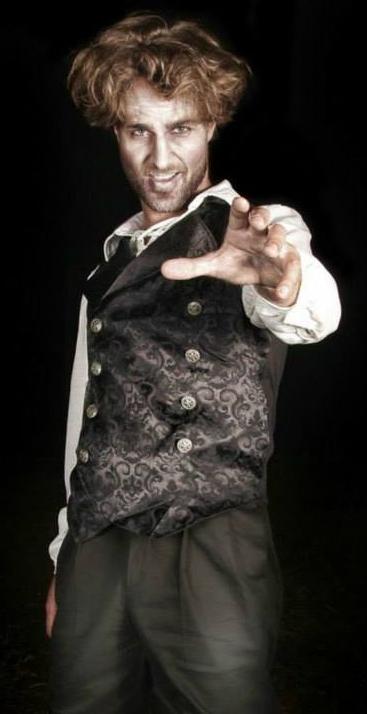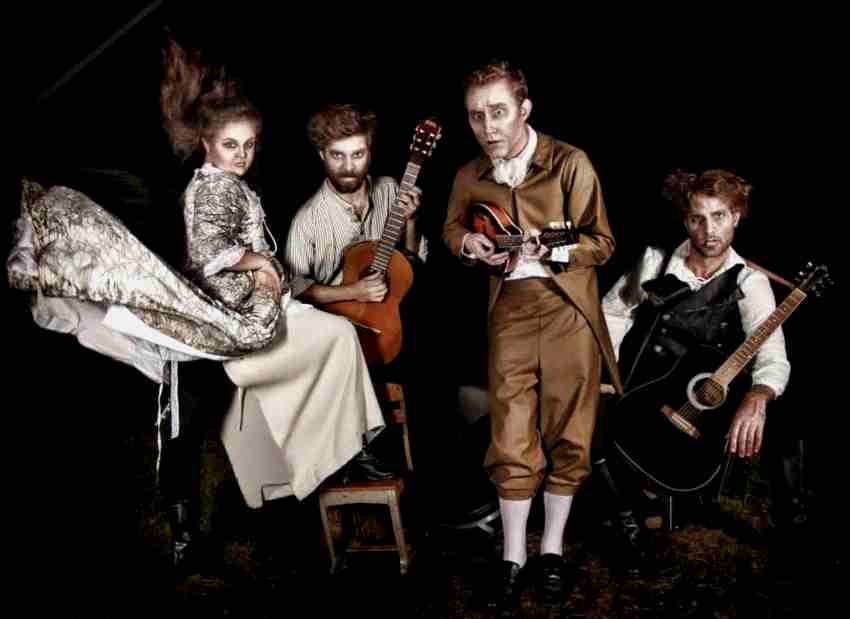 Serenbe Playhouse, Atlanta staged this wonderfully imaginative production!
---

The Ride of the Headless Horseman!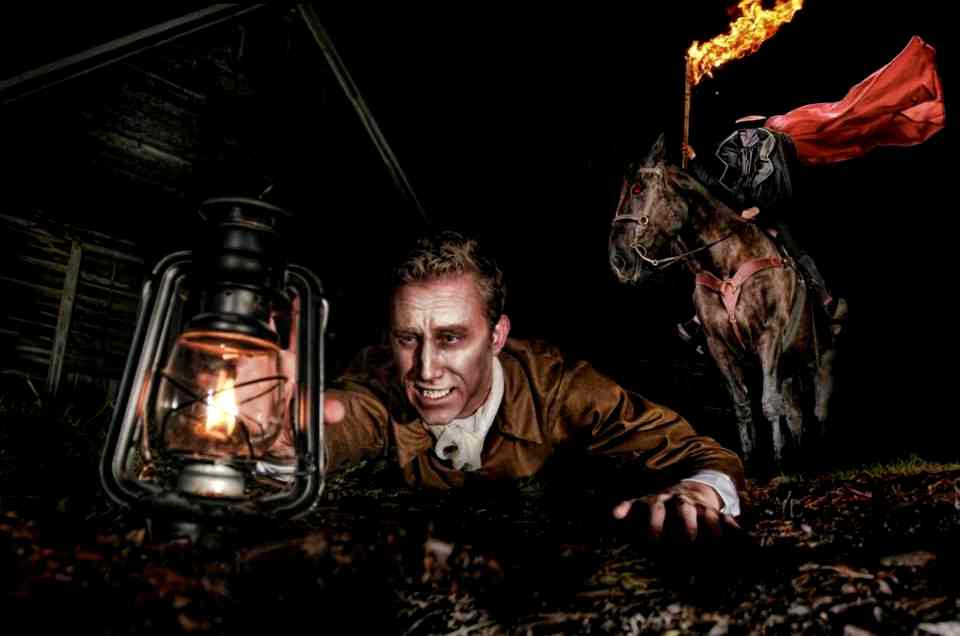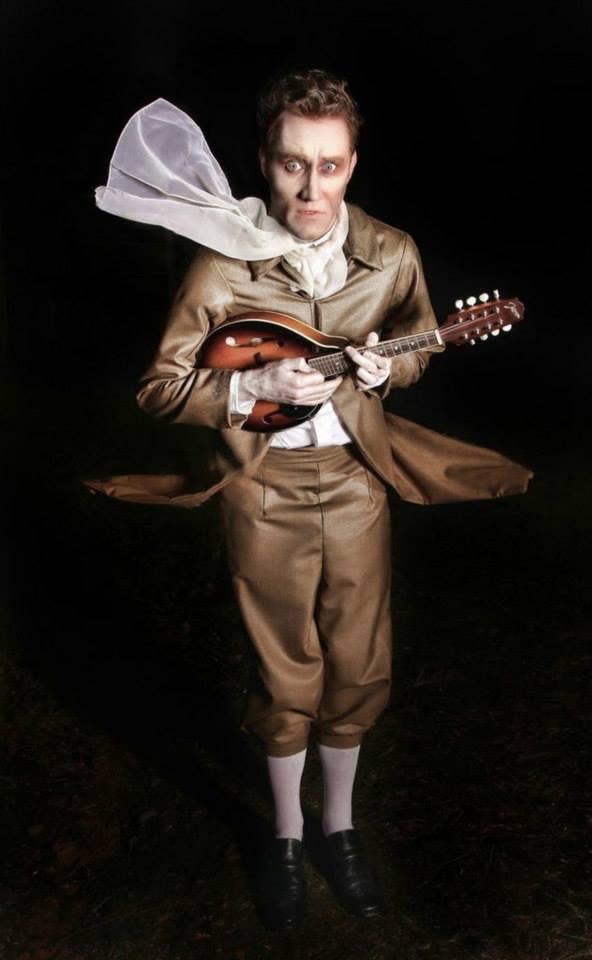 Serenbe Playhouse used the script's audience
participation and interaction to great effect! They staged the play in a real stable and the Headless Horseman's ride on a real horse!

"The audiences loved it! By far one of the best
play adaptations of Washington Irving's classical work!"
Grace Sayers, Storybook Theatre Co., DeLand, FL
---
School Play Version:
Recommended for Middle Schools, High Schools, Theatres.
Flexible Cast of 22 (14 male, 8 female)
Touring Version (This Page):
Recommended for Adult Actors, Theatres, Touring to Schools.
Cast of 3 (2 male, 1 female)
Expanded Version:
Recommended for Audiences Grades 6-12.
Flexible Cast of 9 (5 male, 4 female)
---
Production Information

Audience

Elementary Schools, Middle Schools, Parents, Teachers, Families, Community

Cast

Touring: cast of 3, 2m, 1f
Expanded Cast: cast of 9, 5m, 4f
School Play: cast of 22, 14 m, 8f

Time

About 45-50 minutes

Published By

Dramatic Publishing Co.

Royalty

Royalty & Performance License Required (Details)