CINDERELLA
Large Cast School Play for Kids to Perform
Soundtrack Cues ............ Script Sample
---

CAST LIST

Running Time: About 40-45 minutes
Flexible Cast of 24: 5 Male, 9 Female, All others M/F
Easily adapted for larger or smaller cast

CHORUS:
BLUE (M/F, 9 lines)
GREEN (M/F, 7 lines)
ORANGE (M/F, 8 lines)
PURPLE (M/F, 9 lines)
RED (M/F, 8 lines)
YELLOW (M/F, 8 lines)
MICE:
NIBBLES (M/F, 7 lines)
SQUEAKY (F/M, 9 lines)
SWEETIE-PIE (F, 9 lines)
CHEESE-HEAD (M/F, 9 lines)
NOSY (M/F, 10 lines)
SAM (M, 12 lines)
CINDERELLA: (F, Total of 37 lines)
CINDERELLA #1 (F, 9 lines)
CINDERELLA #2 (F, 7 lines)
CINDERELLA #3 (F, 11 lines)
CINDERELLA #4 (F, 8 lines)
GRETA SNAGGLE-BONES (Stepmother): (F, Total of 26 lines)
SNAGGLE-BONES #1 (F. 16 lines)
SNAGGLE-BONES #2 (F, 10 lines)
STEPSISTERS:
LULU-LOLLY (F, 11 lines)
BELLA-BOMB (F, 9 lines)
KING GRUMBLE-KNEES (King) (M, 9 lines)
SNITWICK (King's Assistant) (M, 15 lines)
FAIRY GODMOTHER (F, 16 lines)
MISTER SEZ-SO (Announcer) (M, 8 lines)
FANCY LADIES:
MISS HOOTY-TOOT (F, 7 lines)
MISS PEEPER (F, 4 lines)
MISS FUSS-POT (F, 5 lines)
PRINCE CHARMING (M, 13 lines)
---
Easy for Kids to Learn, Perform and Enjoy!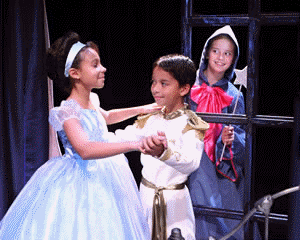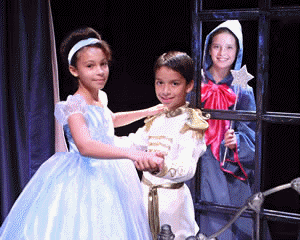 Solano Youth Theatre, Young Cast, Cinderella, 2010 Production!
---

CINDERELLA
CD SOUNDTRACK CUES
Cues, sound effects, background music (traditional-classical)

The CD Soundtrack contains special sound effects and background music (public domain traditional-classical) that may be used to greatly enhance the performance. It does not contain music and songs from the popular animated film, movie or stage musical, nor does it contain music for the performers to sing along with. Cues have 10 seconds of silence at the end - times shown below include silence.
[ Click on [sample] to hear a short sample of the indicated cues ]

1. FANFARE 1, MICE (0:41) [sample]
2. FANFARE 2 (0:15)
3. STROLLING THROUGH THE PARK (0:48) [sample]

4. SAD MUSIC (0:29)
5. SAD, MAGIC WAND, CHIMES (1:05) [sample]
6. MAGIC WAND (0:18)
7. MAGIC WAND, CHIMES (0:44)
8. MAGIC SOUND, WALTZ, FANFARE (0:32) [sample]
9. MAGICAL WALTZ, CLOCK CHIMES (0:57) [sample]
10. SHOE MAGIC (0:23)
11. MAGICAL WALTZ FINALE (1:07) [sample]
Note: Some teachers choose familiar songs, obtain sheet music and insert these songs into the play. We recognize that each school has a wide variety of educational needs to fulfill and we invite you to be creative in your use of our scripts; including changes or additions that are appropriate for your students. As author/publisher of our own creative works, we do ask that you obtain proper copyright permission for any additions you might make - that responsibility is up to you.

Music & Sound Resources Available on the Internet
( Sheet Music, Song Books, CDs, DVDs, Sing-along, Karaoke, Sound Effects )
Internet Resources: Karaoke CDs & Sheet Music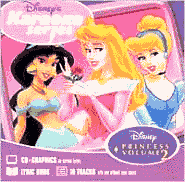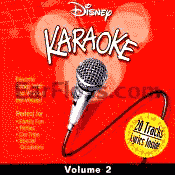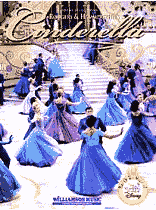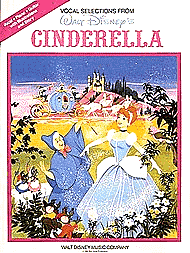 Click to search Internet for karaoke cds or sheet music
---

Fun Fairy Tale Magic for Kids!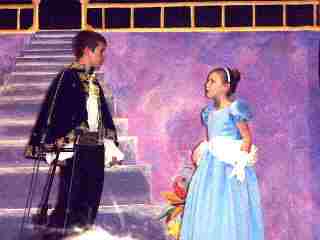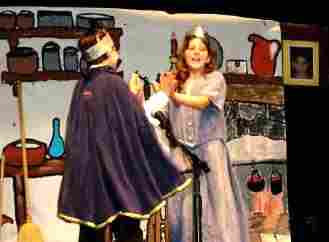 Mi CASA Players, Casa Grande, AZ
"Thanks for your encouragement! Our performance went great! The children painted the sets, helped with the costumes and really did a super job. Your script was great. I think our "Greta Snagglebones" will be famous one day!
Katie McAllister, Central Elementary
---
The story is just as you remember it... Here is Cinderella's moment of triumph.
(Script pages 26-27)
SNAGGLE-BONES: There's a caller from the King!

LULU-LOLLY: I knew the Prince would choose me!

BELLA-BOMB: You? You're daft! The Prince has chosen me!

SNAGGLE-BONES: Girls! Be quiet! And don't forget your posture! Cinderella, answer the door!

(CINDERELLA goes to "door". CHORUS makes "knocks". MISTER SEZ-SO & SNITWICK enter. SNITWICK carries a pillow ceremoniously, the "shoe" sits upon it.)

MISTER SEZ-SO: The Prince has ordered that every lady that was at the ball last night try on this shoe. If the shoe fits, the Prince will make you his bride.

(CINDERELLA gasps!)

SNAGGLE-BONES: Well what are you waiting for Bella-Bomb? Try on the shoe!

BELLA-BOMB: (To LULU-LOLLY.) I'm sure it fits me to a tea.

(BELLA-BOMB throws off her shoe and sits, SNITWICK kneels at her feet. She struggles to fit her foot inside the shoe. It doesn't fit.)

SNAGGLE-BONES: Lulu-lolly! I command you to fit your foot in that shoe this very instant!

(LULU-LOLLY gives BELLA-BOMB a smug look, sits. She tries to fit her foot in. It doesn't fit.)

SNAGGLE-BONES: Let me at that!

(SNAGGLE-BONES kneels, knocks SNITWICK away and shoves LULU-LOLLY's foot in the shoe.)

Push, girl, push!

LULU-LOLLY: I am!

SNAGGLE-BONES: Push harder!!

LULU-LOLLY: (To SNITWICK.) It fits! See? It's just a little tight is all.

(The shoe dangles from her toe. SNAGGLE-BONES groans and falls from exhaustion. CINDERELLA speaks up quietly.)

CINDERELLA: May I try it on?

LULU-LOLLY: You?

BELLA-BOMB: You think you can fit the slipper?

SNAGGLE-BONES: (Laughing.) That'll be the day!

(SNITWICK gestures for CINDERELLA to take a seat. She sits.)

SNITWICK: Madam?

(CINDERELLA puts her foot to the shoe.

SOUND CUE #10: Shoe Magic.

The CHORUS makes magical sounds with chimes and xylophone. The shoe fits and ALL gasp! [This can include all PERFORMERS who are not on stage.] SNAGGLE-BONES and STEPSISTERS are agog, falling all over themselves, amazed. SNITWICK stands, then falls to a deep bow.)

Princess.

Note: This is a sample from the actual script. To review the entire play, order the PERUSAL SCRIPT (online instant download). Or to save 20% on the full production kit and royalty for one performance, order the SCHOOL PLAY PACKAGE (below) and start rehearsals today!

---

THE SCHOOL PLAY PACKAGE HAS EVERYTHING YOU NEED!
Get Everything - Only $99.95

SAVE MORE $$$ WITH FULL DOWNLOAD
-- NO SHIPPING COSTS! --