ALICE IN WONDERLAND
Medium Cast Play for Middle/High Schools

Welcome to Wonderland! Alice's Adventure!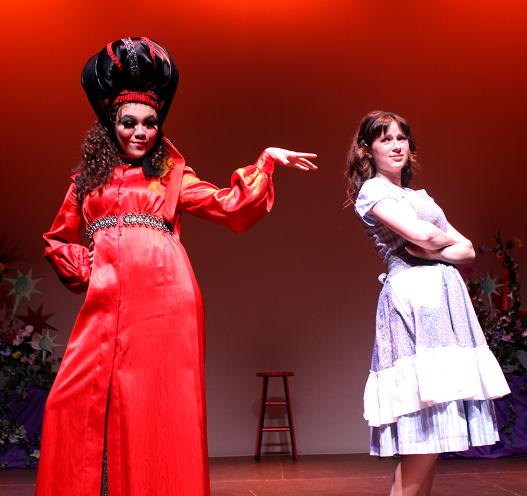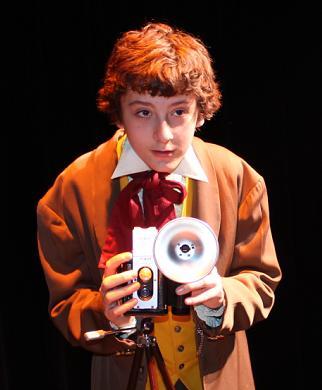 Greenbrier Valley Theatre, GVTeens Program, Lewisburg, WV, 2012!
"Our school performed your Alice in Wonderland Medium Cast Version and it was a huge success! The script was so easy to work with and perfect for our grades 6 to 8 students. Our parents, teachers and students all loved the show!"
Kristen Dias, Prince Andrew Public School, LaSalle, ON, Canada

"Perfect for Grades 6 to 8 Students!"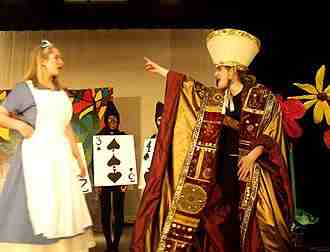 Trafalgar Middle School for Girls, Montreal, QC, Canada
---

Fun Script for Teens to Perform!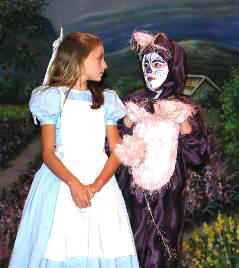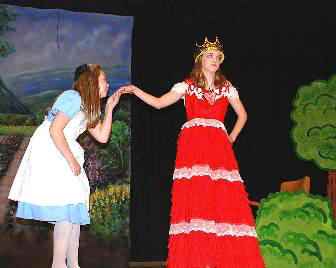 Alice meets Cheshire Cat, kisses Queen of Hearts' hand.
Medium Cast Version, Alice in Wonderland, Pontotoc MS
All your favorite characters are here: Alice, White Rabbit, Cheshire Cat, Mad Hatter and of course, the Queen of Hearts! The use of Storytellers and open staging brings flexibility and comedy to the performance, showcasing your talented students!
---
Creative Script Sparks Young Imaginations!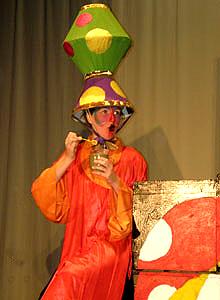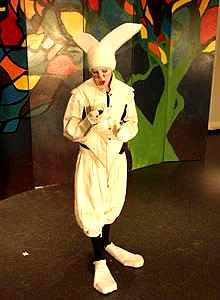 Trafalgar Middle School for Girls, Montreal, QC, Canada
"My thespians and I got rave reviews for our
performance of Alice In Wonderland. Our
performance for the student body ended
with a standing ovation as did our
public performance!"
Laura Lynn Cotrell, St. Agnes School, West Chester, PA

Easy to Adapt to Your School's Needs!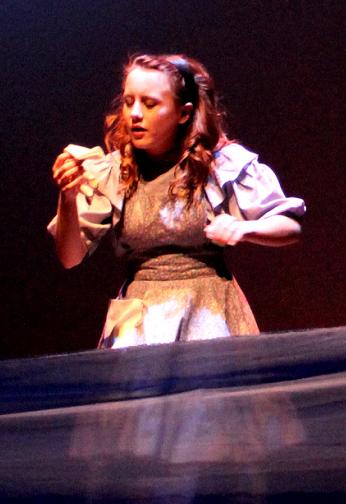 Young People's Theatre, Forest Hill, MD - Greenbrier Valley Theatre

---

"Such a Delightful Adaptation!"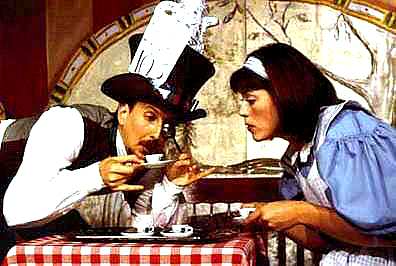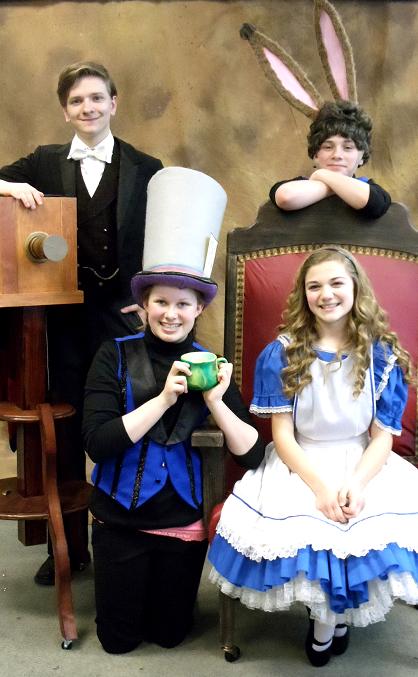 The tea party scene is fun for performers and audiences!
Second Youth Theatre, Austin, TX - Quincy Community Theatre, IL
"Thank you for allowing us to produce Alice in Wonderland. Such a delightful children's play adaptation!"
J. Richard Smith, Second Youth Family Theatre

Excellent Play for Theatres and Schools!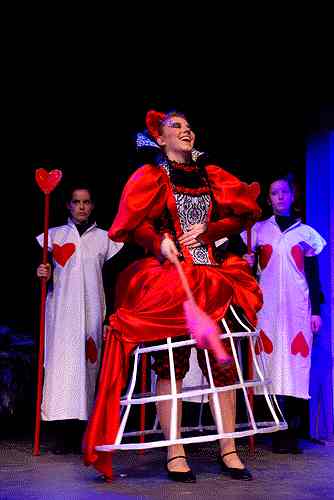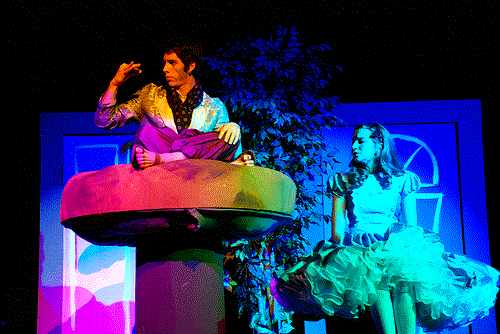 Medium Cast, Harding Theatre, Searcy, AR
---

"A fun trip down the rabbit hole!"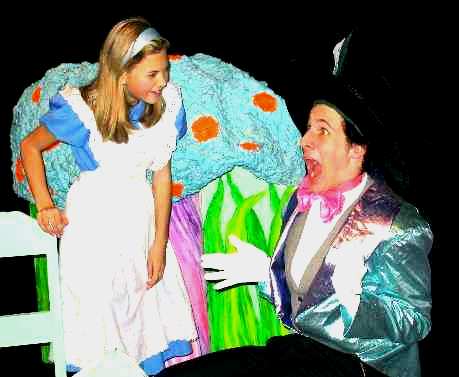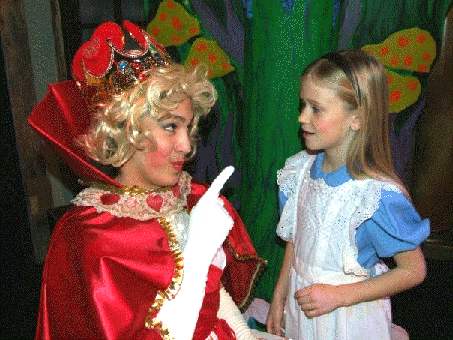 Garbeau's Acorn & Oak Theatre, CA - Sutter Street Theatre, Folsom
"Like the original classic, the current production of 'Alice in Wonderland' at Garbeau's Acorn and Oak Theatre for Children is a delight for adults as well as for its main audience, children of all ages."
David Jacobson, Theatre Critic, Life Newspapers, Eldorado Hills, CA

---

Fast Paced and Fun for All!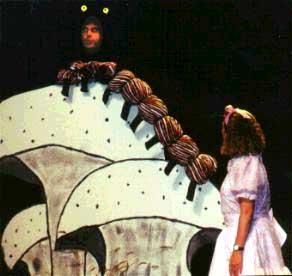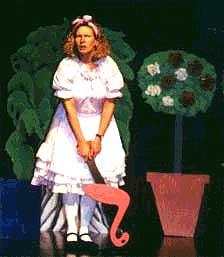 Take a Bow Productions, Chatham, Ontario
A flexible cast of 14: It's easy to adapt the script for a larger or smaller cast. Most roles can be played by male or female performers.

About 45 minutes long: Long enough to be a substantial project and short enough to accommodate your schedule. Perfect for touring to your local elementary school!
"Parents, teachers & students loved the show!"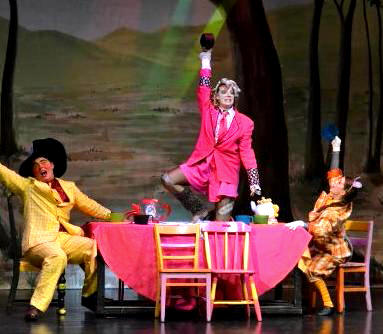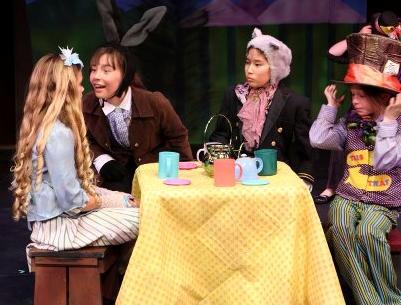 Palace Theatre, Manchester, NH - Solano Youth Theatre, Fairfield, CA
---

What's the difference between the School Play and the Medium Cast versions?

The School Play version has a cast of 24 or more; Medium Cast version has a smaller cast of about 14. Speeches are longer and more action is given to the Storytellers. Large roles such as Alice and Queen of Hearts are played by one actor. Many of the famous scenes such as the Mad Tea Party and Cheshire Cat's appearance use Carroll's original dialogue.

Most Roles May Be Played by Boys or Girls!

Take a Bow Productions - Chatham, Ontario

---
Alice in Wonderland
Has 3 Versions
---

ALICE IN WONDERLAND
Medium Cast Play for Middle/High Schools